One of my favorite times of the year is here and I am super excited! It's Amazon Prime days and it's my chance to stock up and save money on organizers!! What, what!!
If you are new to Amazon, let's cover that first. Amazon Prime Days is a massive 2-day sale that happens just once a year. It is your chance to get access to some incredible deals on over 2 million products.
Happy Dance!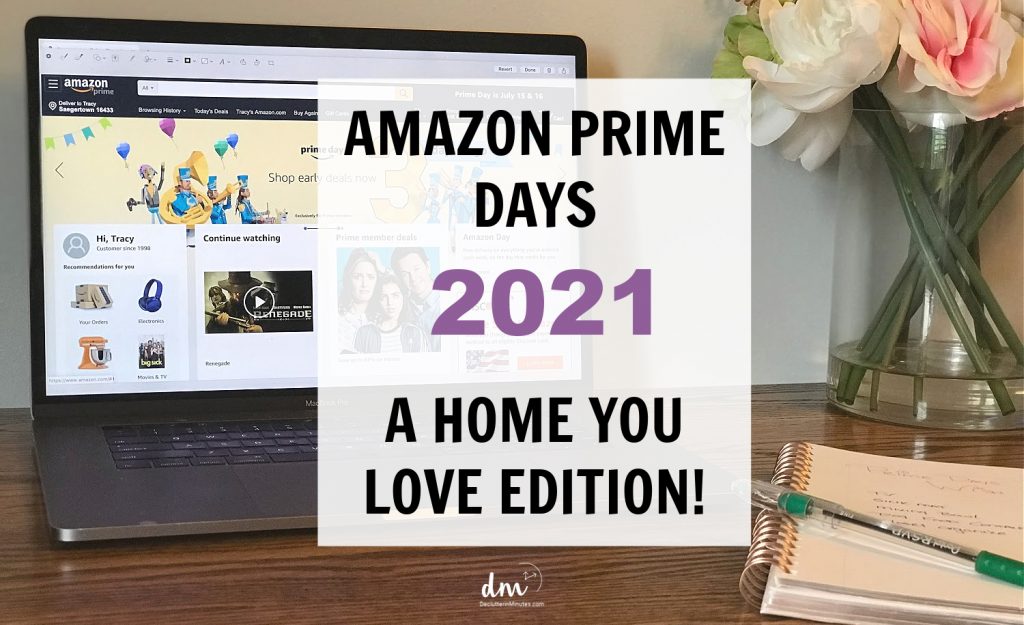 If you are just here for the deals…. scroll down below! 
When is Amazon Prime Days?
Deals begin on Monday, June 21st at 12 am PST (3 am EST) through Tuesday, June 22nd. But early deals are hitting right now…as we speak! EEEEK!!
Who is Amazon Prime Days for? 
Prime day is an exclusive sale for Amazon Prime Members. If you are not yet a member, you can sign up for a 30-day FREE trial. This will allow you to join in on Prime days and if for some reason, you are not a fan of being a member, you can cancel before our trial is up.
Prime membership is a paid membership that costs $13 per month or $119 per year. As a member, you get access to a variety of perks, including FREE shipping on select products, as well as access to Prime Video, exclusive deals, and more, all of which you can sample during the trial.
Heads up….without a Prime membership, you won't even be able to see the majority of the deals on Prime Day.
If you are not yet a member, you can get a 30-day free trial HERE.
D/M PRO TIP: Join the trial, take advantage of this awesome sale, and cancel it before the time is up and you will not be charged. I for one, LOVE being a prime member and find the perks that come along with it (free shipping) are worth the costs alone! 
What is Amazon Prime Days? 
A fast 2-day event where deals hit quick and end once the product sells out or time is up. Products go on sale at different times throughout the time frame and once they go live they start selling…quick. That is why this page is such a big help for you!
Don't worry about missing a deal, just come here and find what you need, click, and buy!
How do I take part in Amazon Primes Days? 
This sale is only for Amazon Prime Members. So that means if you are already a member, then all you need to do is watch, click, buy. It really is that simple. BUT….with a sale this fast you might just miss out on a deal you've been wanting and that is where this page comes in.
As deals come that relate to homesteading and gardening I will link to them on this page. The page is organized out so you can get in quickly and find what you need so you can purchase for the deal is gone.
It really IS that simple!
Skip on down to the category below that you are interested in and check out the list that will be updated in real-time.
Match the color to the latest update!
LAST UPDATED June 21st:
10:30 AM EST 
2:10 PM EST 
LAST UPDATED June 22st:
8 AM EST 
2:30 PM EST
My Favorite Picks!!
I will be adding things just as soon as they are up and live. So check back to this page often!
Extra-Large Under Bed Storage Bags
6-Shelf Hanging Closet Organizers
Magnetic Weekly Dry Erase Board Calendar for Refrigerator
Dissolvable Labels Stickers for Food containers
Shark AV1010AE IQ Robot Vacuum with XL Self-Empty Base – This is the big one but also an investment! 
Home Foldable Storage Basket – my favorite baskets!
For the Kitchen
2 Tier Fruit Storage for the kitchen counter
Expandable Under Sink Organizer 
Stackable Refrigerator Organizer Bins
Spice Kitchen Drawer Organizer
Drawer Dividers Bamboo Separators
Non-Skid 2 Tier Turntable – only a few left! 
Airtight Container Set for Food Storage
Lazy Susan Turntable Cabinet Organizer
Over The Door Hanging Pantry Organizer
Pot Rack Organizer under Cabinet
Expandable Food Storage Container Lid Organizer
3-Tier Kitchen Baker's Rack Utility – I just love this!!! 
For the Family Room 
Large Storage Basket 15 x 15 x 15 inch – great for corralling blankets and pillows! 
Large Cotton Rope Basket 15.8″x15.8″x13.8″
Lift Top Coffee Table – I so love this table! 
Wood Floating Wall Shelves with Rails
For the Office/Paper
24 Pocket Expanding File Folder – a really great deal!
Set of 22 Interlocking Desk Drawer Organizer trays
Hanging File Folders – love the floral design!
Computer Desk 47 inch Home Office 
For the Bedroom/Closet 
Storage Bins Baskets for Organizing – would work great in a closet!
Set of 4 Large Canvas Storage Baskets – great for kid's things
Closet Baskets – set of 3
Large Capacity Clothes Storage Bag
6-Shelf Hanging Closet Shelves
Hanging Wall Mounted Jewelry Organizer
2 Pack Underbed Storage Bags – I snagged two! 
Nightstand 2-Drawer Shelf Storage
For the Bathroom
Laundry Basket Bathroom Organizer
For the Mudroom/Entryway
Cube Stackable Shoe Cubby Organizer
Open Storage Cabinet – perfect for shoes!
Industrial Shoe Bench Rack – A much cheaper option than above
For the Laundry Room
Magnetic Lint Bin Laundry Room Trash Can Dryer Sheet Holder & Pods Container & Dryer Vent Cleaner Kit
Outside Organizers
Tool Storage Rack, Garder Tool Organizer System
Cleaning Tools I love!
BISSELL Power Fresh Steam Mop, Floor Steamer, Tile Cleaner, and Hard Wood Floor Cleaner
Microfiber Cleaning Cloths White-50PK
Shark NV358 Navigator Lift-Away Professional Bagless Upright Vacuum Cleaner
Broom and Dustpan/Dustpan – 50% off!! 
Dry Wet Wood Floor Mop with 3 pcs Washable Pads