If you are looking for tips on how to organize a bedroom step by step then the help you need is here. Use this guide to see just how to declutter your bedroom and create a space you love to sleep in.
Do you feel like you're constantly tripping over clothes and shoes and coats and more when you walk into your bedroom?
Don't worry, we've got you covered. In this blog post, we will show you how to organize your bedroom step by step. We'll give you tips and tricks on how to make the most of your space, and we guarantee that by following this advice, your bedroom will be clean and clutter-free in no time.
Use these simple steps and soon your bedroom will be transformed from a chaotic mess into a serene sanctuary where you can relax and unwind after a long day. And bonus, you'll love falling asleep in a beautifully organized bedroom – it's like a breath of fresh air for your home.
How to Organize a Bedroom Step by Step
If you're a busy woman, chances are your bedroom is the last place on your mind when it comes to organization. There are so many other things that need your attention that the room where you sleep tends to be the last on your list. No worries, with a few simple steps, you can organize your bedroom and make it a haven of peace and relaxation.
Step #1. Remove the Stuff
Start by decluttering your bedroom of all unnecessary items. This would be any trash, old magazines, water bottles, food wrappers, junk mail, or empty bags.
Next, gather up anything that you can put away. Dirty laundry in the laundry room, dishes in the kitchen, paperwork in the office, etc.
Step #2. Clothes
One of the areas we tend to have so much more than what we need is the things we wear. Go through your clothes sorting as you go. Put them into three piles – keep, donate, or toss. Be ruthless with what you get rid of – if you haven't worn it in six months, chances are you won't miss it.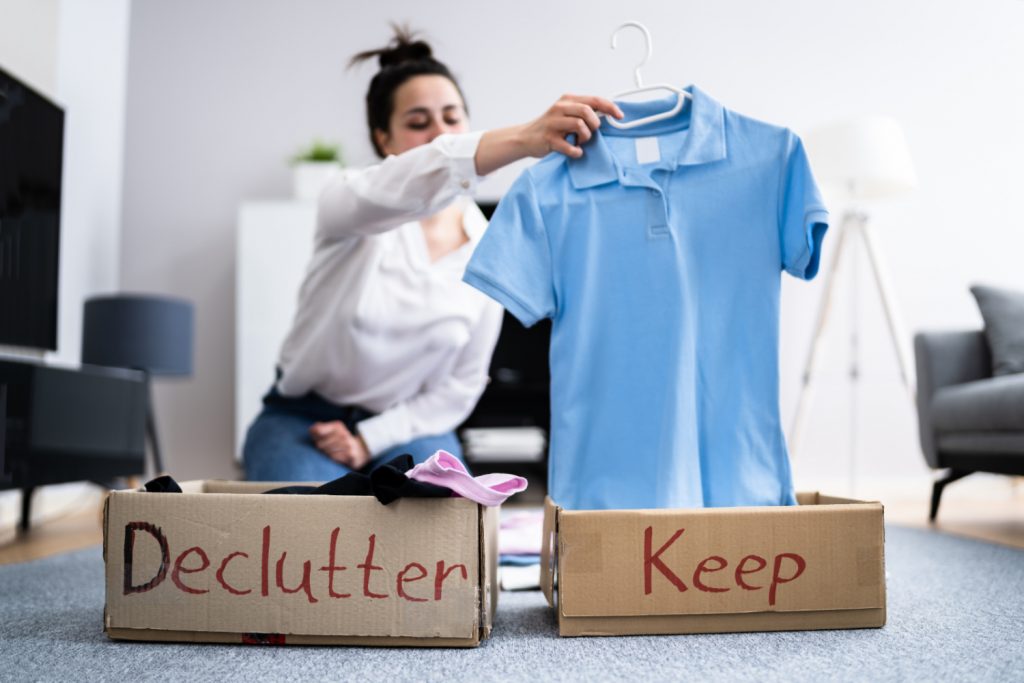 Step #4. Open Surfaces
Another hotspot for clutter is any open space. This can be the top of a dresser, the end of your bed, a nightstand, or even the floor. Gather up anything you see and sort it out.
Toss the trash and recyclables.
Put away anything that has a home.
Box up the clutter to donate.
Step #4. Clean
Now that you have the stuff gone and your clothes decluttered you should have a nice open area. Take advantage of this and do a quick wipe-down. It can be so frustrating to clean a space that has too many things in the way. Let that be a motivator for getting your bedroom done. The less clutter you have.. the easier it is to clean.
Step #5. Organize
Once you've decluttered and cleaned your bedroom, it's time to create a system for organizing what's left. A few ideas are:
Hang clothes by color or style to help make it easier to get dressed in the morning.
Organize belts, scarves, and other accessories so they're easy to find.
Use bins to hold lotions.
Use hooks to hang robes.
Use a large basket to hold extra blankets or pillows.
Use a reading bag to hold books or magazines.
Be sure to label each of your storage containers so you know where everything is. This will make it easier to put things all the way away when you are done using them.
Step #6. Furniture
When it comes to organizing a bedroom, the layout is key. You want to make sure that your bed is the focal point of the room and that everything else is arranged in a way that makes sense. Here are a few tips on how to organize the layout of your bedroom:
Place your bed in the center of a wall in your room. This will be the focal point of the space and will help you to organize everything else around it.
Arrange your furniture in a way that makes sense and helps you to get a good night's sleep. You don't want your dresser to be blocking a window, for example, limiting sunlight that can really help bring calm to a bedroom.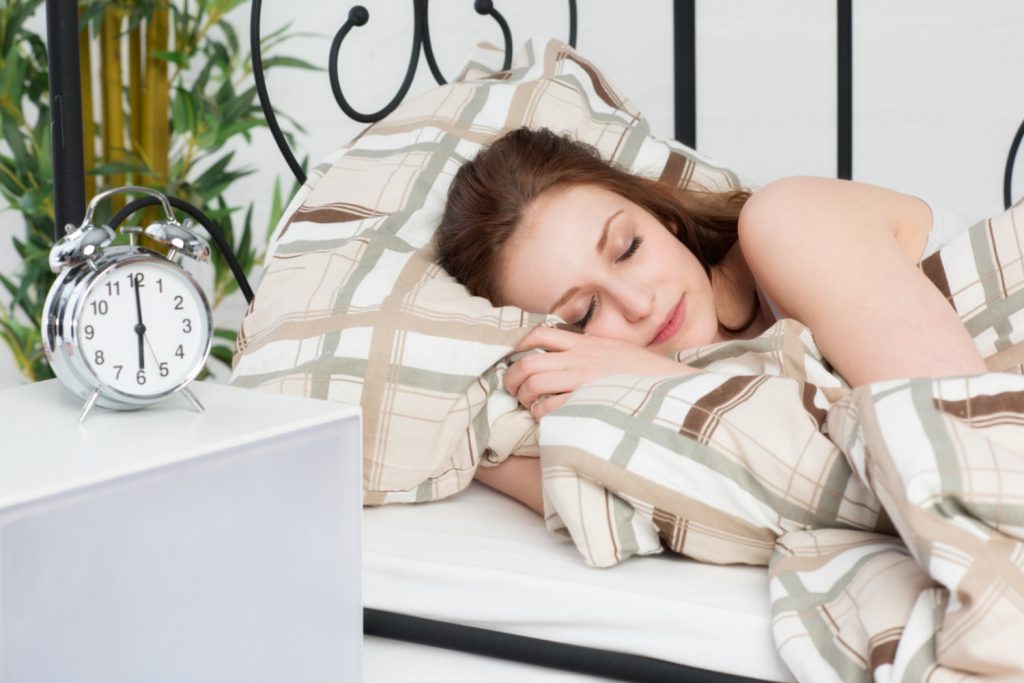 Step #7. Get Creative
Make sure that you have enough storage space. This is important for keeping your bedroom tidy. If you are short on floor space you can hang shelving that you can then use to hold items you routinely use in your bedroom.
A shelf with bins to hold socks, pajamas, scarves, and even sweaters is a great way to add additional storage to a smaller room.
Hang as many clothes as you can in your closet and remove a dresser or two in your bedroom. This will really open things up and help to keep your bedroom tidy and free of clutter.
No matter what you do to organize, remember to label each container so that you know where everything goes. This will greatly eliminate clutter if you are always putting your things away.
Step #8. Jewelry
If your jewelry is taking over your bedroom, let's tackle that next.
Sort your jewelry into categories – necklaces, earrings, rings, bracelets, etc. Decide what you're going to keep and what you're going to get rid of
Find a storage solution that works for you – whether it's a jewelry box, a mirror that houses jewelry inside, a jewelry tray, or a stand.
How can I find more space in a small bedroom?
Let's face it. Not all bedrooms are large with plenty of room for just as many dressers as you need. If you're struggling to find storage in your bedroom, here are a few tips:
Get rid of anything you don't need. The less you have the less you will need to find space for. Minimalistic wardrobes are not only great for organizing but help you start your day with less stress. We will talk more about this in a bit.
Look for unused space. Check under the bed, on the wall, on the side of a dresser, and even behind your bedroom door.
Utilize creative storage solutions.
Baskets on a shelf are great to hold accessories or seasonal items.
Hooks on the side of a dresser are perfect for hanging belts, scarves, or purses.
A door organizer can give you loads of extra space.
A dresser top organizer is great for smaller items.
Be creative with your furniture. Use a dresser as a nightstand, put a shelf over the bed, purchase a mirror with interior storage or invest in a bed that has drawers below.
Step #9. Minimalistic Clothing
Finally, one of the best ways to organize a bedroom is to keep it minimalistic. A scary word but a life-changing approach to an organized bedroom. Minimalistic means getting rid of any unnecessary items and only keeping the essentials. Have 2 pairs of jeans rather than 20 or 1 hooded sweatshirt instead of 12 for example.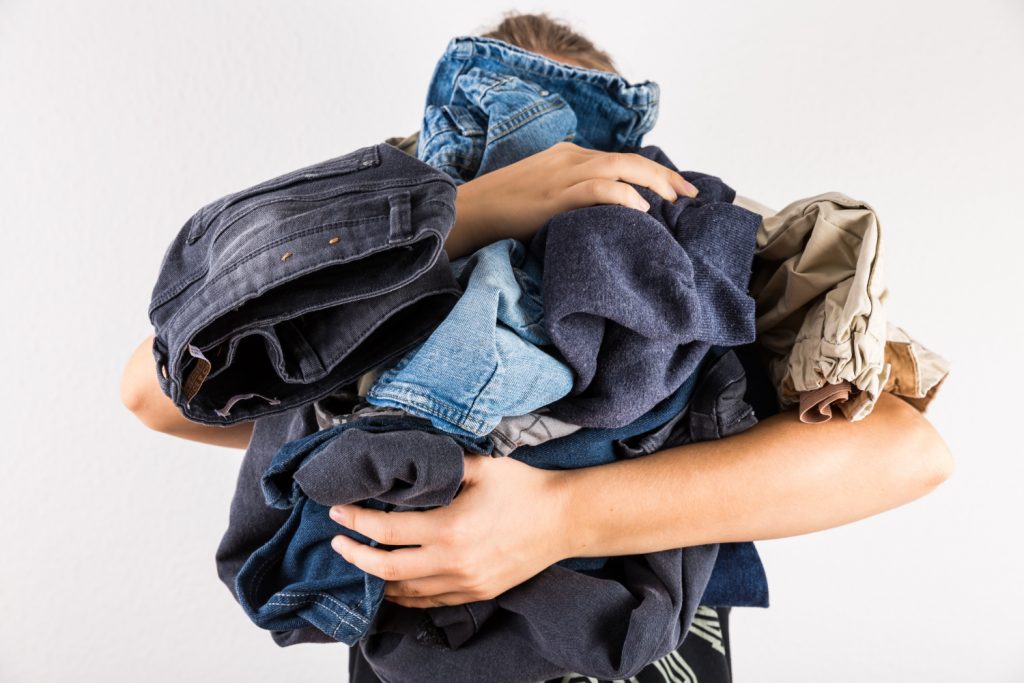 I adopted a minimalistic approach to my clothes a few years ago and even though it was an adjustment at first it helped me to keep a room that is organized, tidy, and super easy to keep it that way.
First, you will want to pull out any clothes you wear often. The pieces you tend to reach for each time you are in your closet or dresser. Sort them out onto your bed paying close attention to what you have.
Your goal is to have a few key pieces in each category with supporting items allowing you to change things up.
Casual
Athletic
Work
Formal
Bedtime
You will want to have more pieces in the category you wear most often. For example, since I work from home casual is my go-to style just about every day. That means I have more options to choose from compared to formal ones. Know what you like, and what you wear most often, and cut way back on the rest.
Don't let a small or messy bedroom hold you back from having an organized and tidy space. By following the tips above you can easily organize your bedroom without having to sacrifice style or storage. So get started today and enjoy your newly organized bedroom tonight!