You know the old saying, "Waste not, Want not"? I think that was started in the kitchen. And over the years that saying has become so ingrained in my head that I find it almost painful to throw anything food-related away. Back when my family was still young and living at home and we were "eating" paycheck to paycheck, I found some crazy ways to repurpose our food. Less than optimal produce or random leftovers were no match for me. I could soup or casserole up just about any ingredient found in my fridge.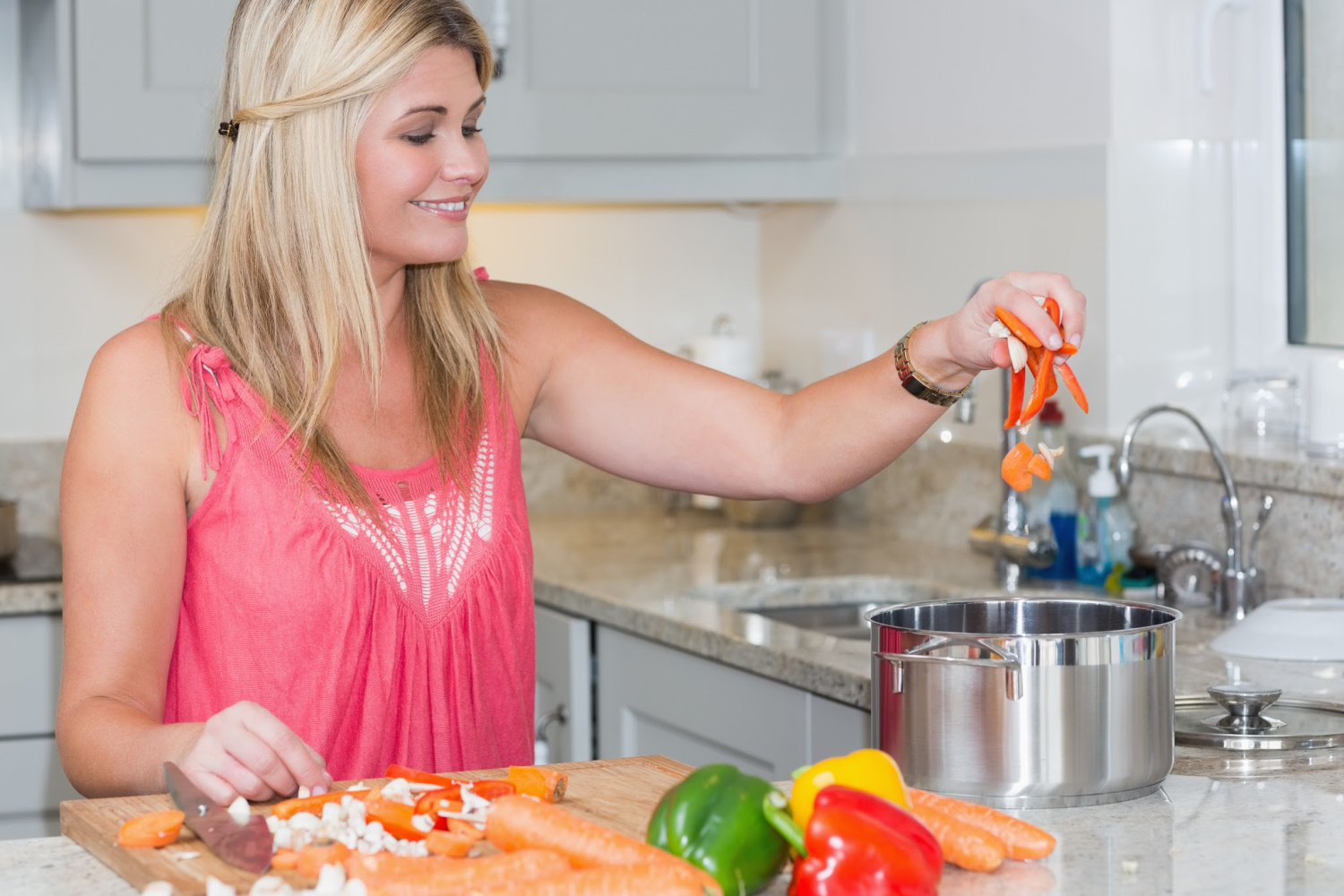 Dry food on the other hand….now, that was another story. Things magically got lost in those back, dark corners of my cabinets and without me even knowing it, I was wasting money on food that was long past the sell-by date.
That is when I told my hubby I needed a pantry.
A place to hold all of my food in one location so I could keep a better eye on things. This would then help me to use up those canned and packeted food items before they expired. This request took a few years to fill but finally when we were forced to relocate my laundry room to the basement, he offered that area as my new walk-in pantry.
Needless to say, I jumped at the offer and within a week I had wire shelving put up, rugs down, and walls freshly painted.
Never once during my new pantry setup did I think about how I would store things. That the idea of putting cans on wire shelving would someday annoy me to no end…but for now, I was just happy to have what I had.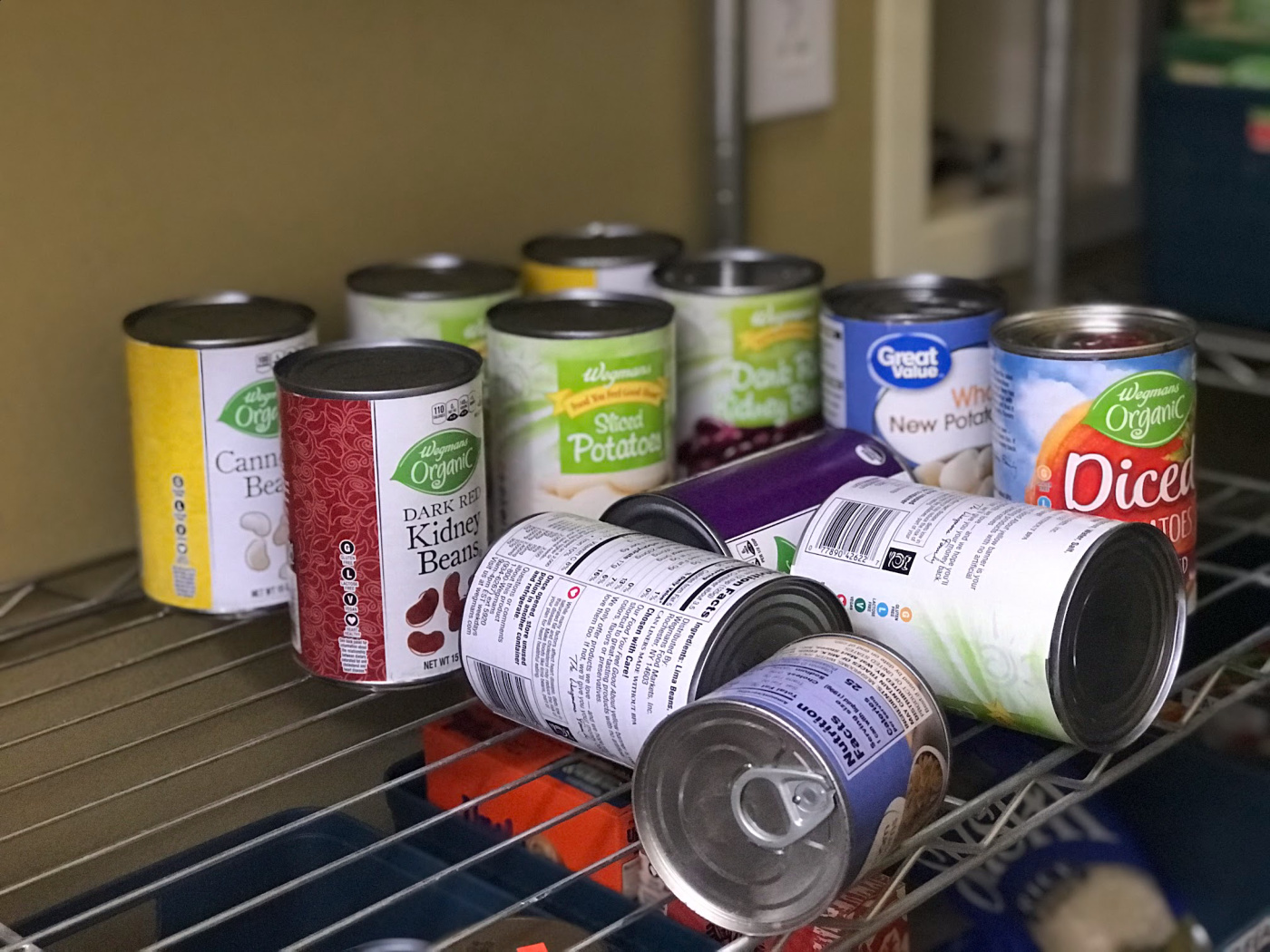 Since that day almost a decade ago I have fought with domino falling soup cans. I tried different stacking techniques for my myriad of cereal boxes and watch countless soup packets fall through the rungs all the way down to the floor.
Walking into my pantry was a balancing act that I perfected so I would not accidentally bump into anything causing a cascade of cans and boxes around my feet.
Today I am happy to say that I conquered the issue of how to organize a pantry with wire shelves. At first, it was all trial and error. I tried many different solutions, and some worked better than others. And what I have now, is my top winner's list, my fast and easy way to systemize a food pantry so you can stop wasting money on outdated food.
How to Organize a Pantry with Wire Shelves
Pantry Solution #1.  Plexiglass
This is one I used for years and I loved how great it kept things from tipping or sliding around. I just purchased a few sheets at the local hardware store and placed them on the shelves. This gives you a flat surface to place cans on without them fall over at the slightest touch.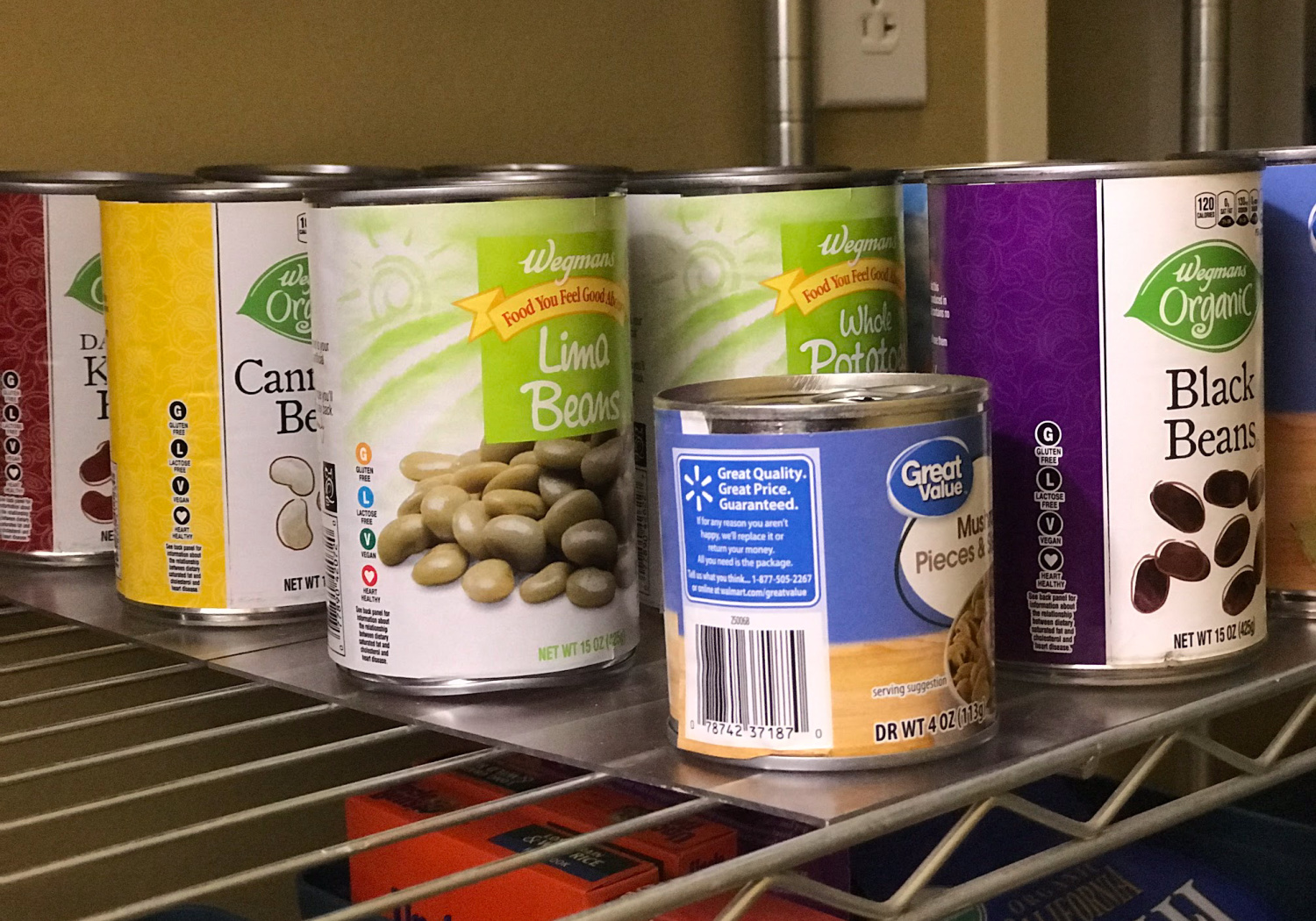 Pros: Plexiglass is easy to keep clean, lightweight to use, and inexpensive to buy. Just a few small sheets on each shelf and I am able to put anything I wanted without the risks of things toppling over. The sheets helped to keep items on the lower shelves clean catching any dust or crumbs that I could easily clean off.
Cons: It was hard for me to categorize things. Labeling isn't the easiest thing to do on wire shelves so this made keeping things in their place a bit more challenging. Why is this important? Because when you set up a weekly or even monthly menu for your family it is always best to "shop" your pantry first. This can be hard to do when you have pasta sauce next to soup and fruit mixed in with the gravy.
Pantry Solution #2.  Baskets
My next attempt at organizing my wire shelves inside of my food pantry was baskets. Again these were something I had on hand already and since we were on a tight budget, using what I had was my only option. Around my home, I had many unused baskets that I began organizing with inside of my food pantry.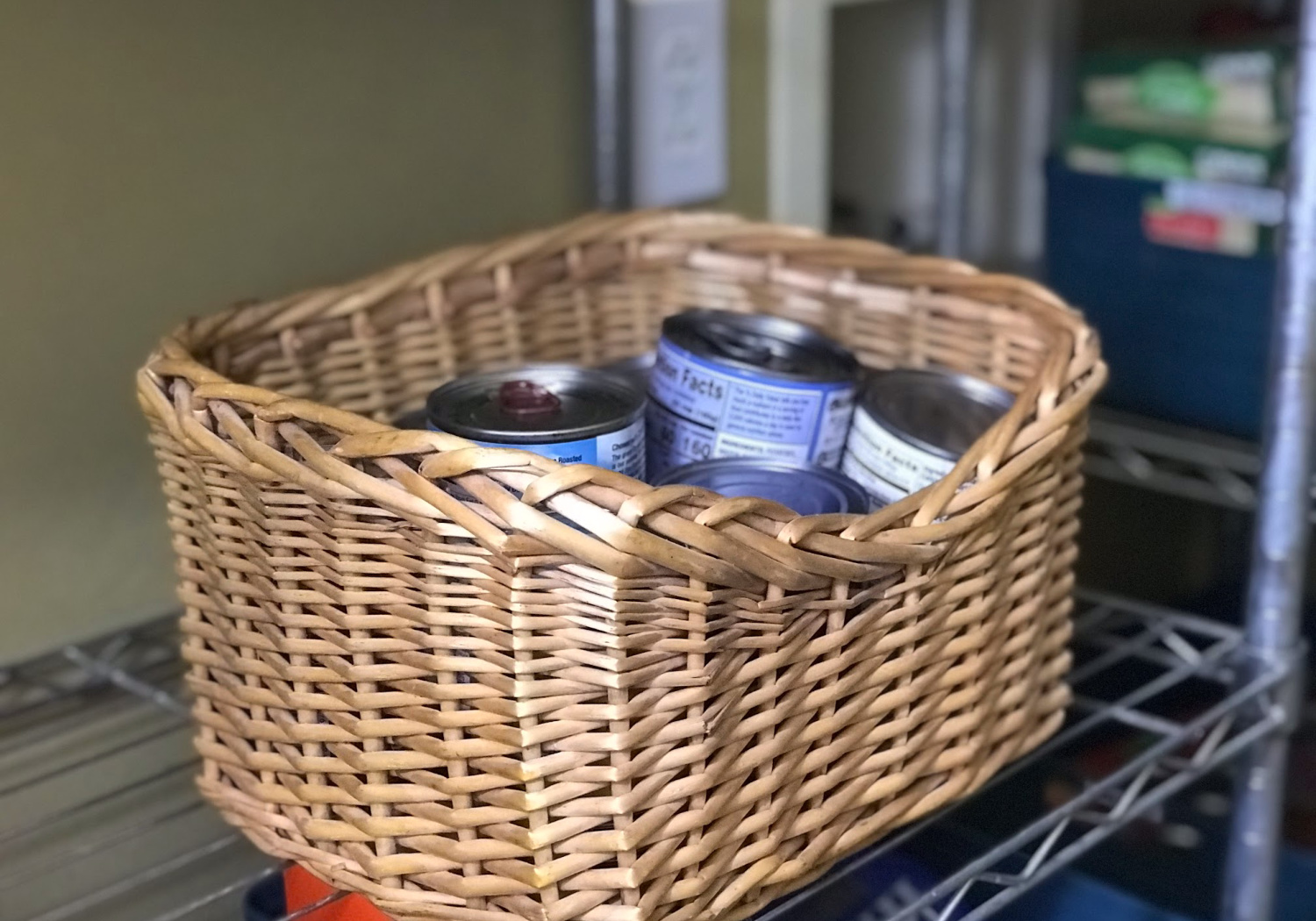 Pro: A great way to keep cans and small boxes contained. You can also organize easier by keeping like items together in each basket and labeling by category such as Italian, soups, rice, snacks. To label, a basket just use a card and tie it on with a bit of string.
Now that you have labels, this really does make organizing a breeze.
Con: Baskets can be hard to slide on the wire shelving and can snag and snap if you are not careful. Baskets, especially whicker ones, are not quite hardy enough to handle a large number of cans. The weight can weaken the frame causing the basket to crack or break.
Pantry Solution #3.  Boxes
When I first tried boxes in my pantry I used simple shoe boxes. Later I switched up to photo boxes I found in my attic and both options worked well. Again, I was looking for inexpensive and effective so boxes were the natural next option for me to try.
Pro: I am sure most of us have a collection of boxes in our homes which makes this another affordable organizing solution. Another plus is the different sizes available making this wide range of containers easy to find one that will fit any situation in your pantry.
Another plus is that you can label with tags or stickers or even write directly on the box itself.
If brown boxes are all you have, you can take it one step further and cover your boxes in contact paper that will pretty things up, add a bit of reinforcement along with ease of clean up if a spill should happen.
Con: Not the sturdiest option around, boxes can get damaged quickly especially if they are being slid in and out often. Also, most boxes come without handles. Sure you can add some but this may weaken them even more.
Not only are bins sturdy and easy to use they are also so many options on the market today you can find just about any style or size. This really allows your personality to show and you can liven up a dull pantry in no time.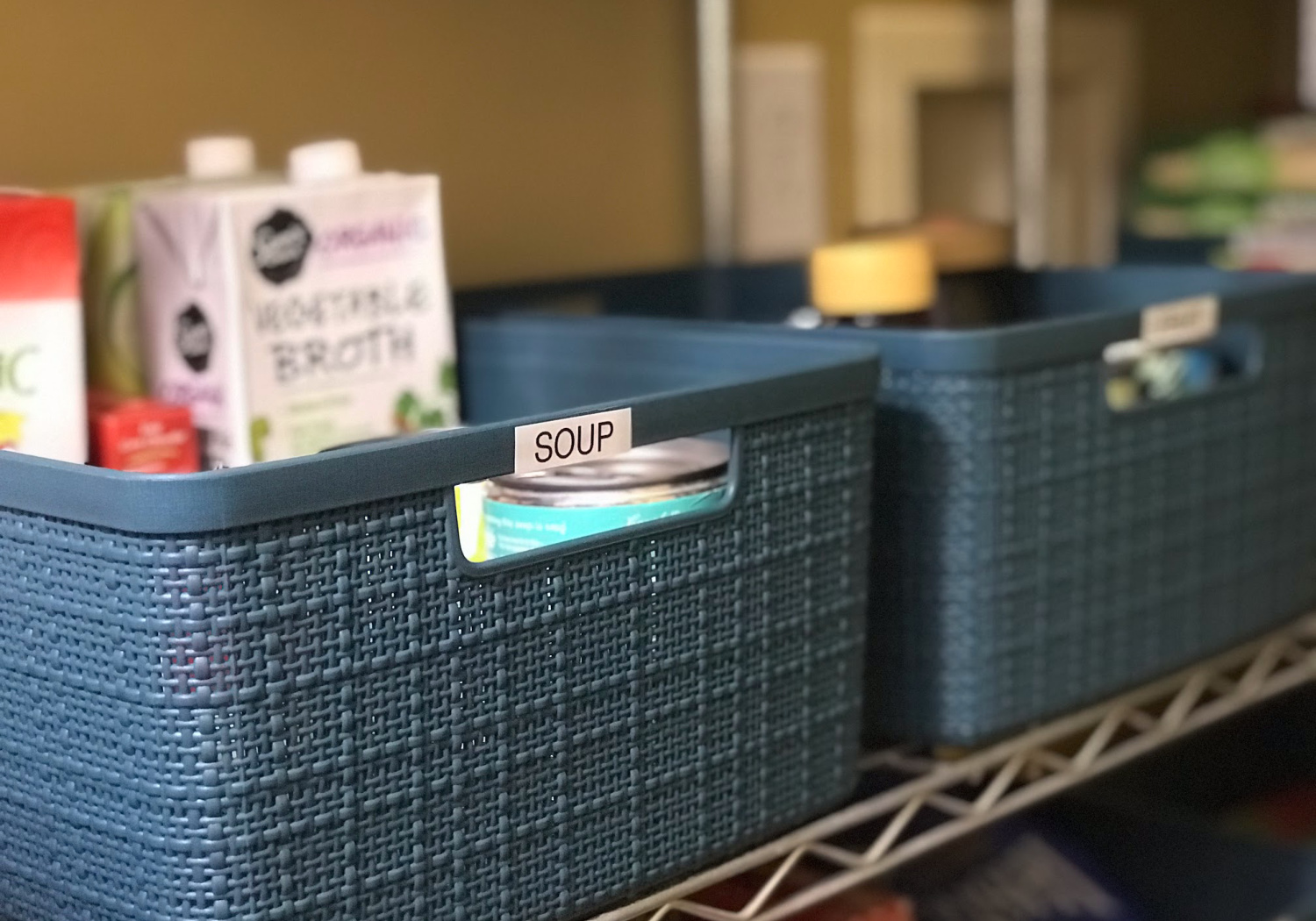 Pro: A much sturdier option depending on the thickness of bin you can expect this solution to last the longest. Fill them up with heavy soup cans or jars and you can trust them to keep things from toppling out. Most bins come with handles making them easy to access, slide in and out, and reach what you need and replace. All of this can be done without risk of snagging on the wire shelf.
Labels can be added easily either with a sticker or tied on with string. This again will really help you to know what is inside without having to look every time you need something.
Con: These bins can be a bit of a cost investment ranging from $3 each up to over $10 all depending on what you are looking for. The bins I use in my pantry were $3-5 so the total cost of my pantry organizing project was close to $75. However, the look of the bins is something I love and for me, the cost was totally worth it. Since some time had passed since I first got my pantry I was able to afford this new option.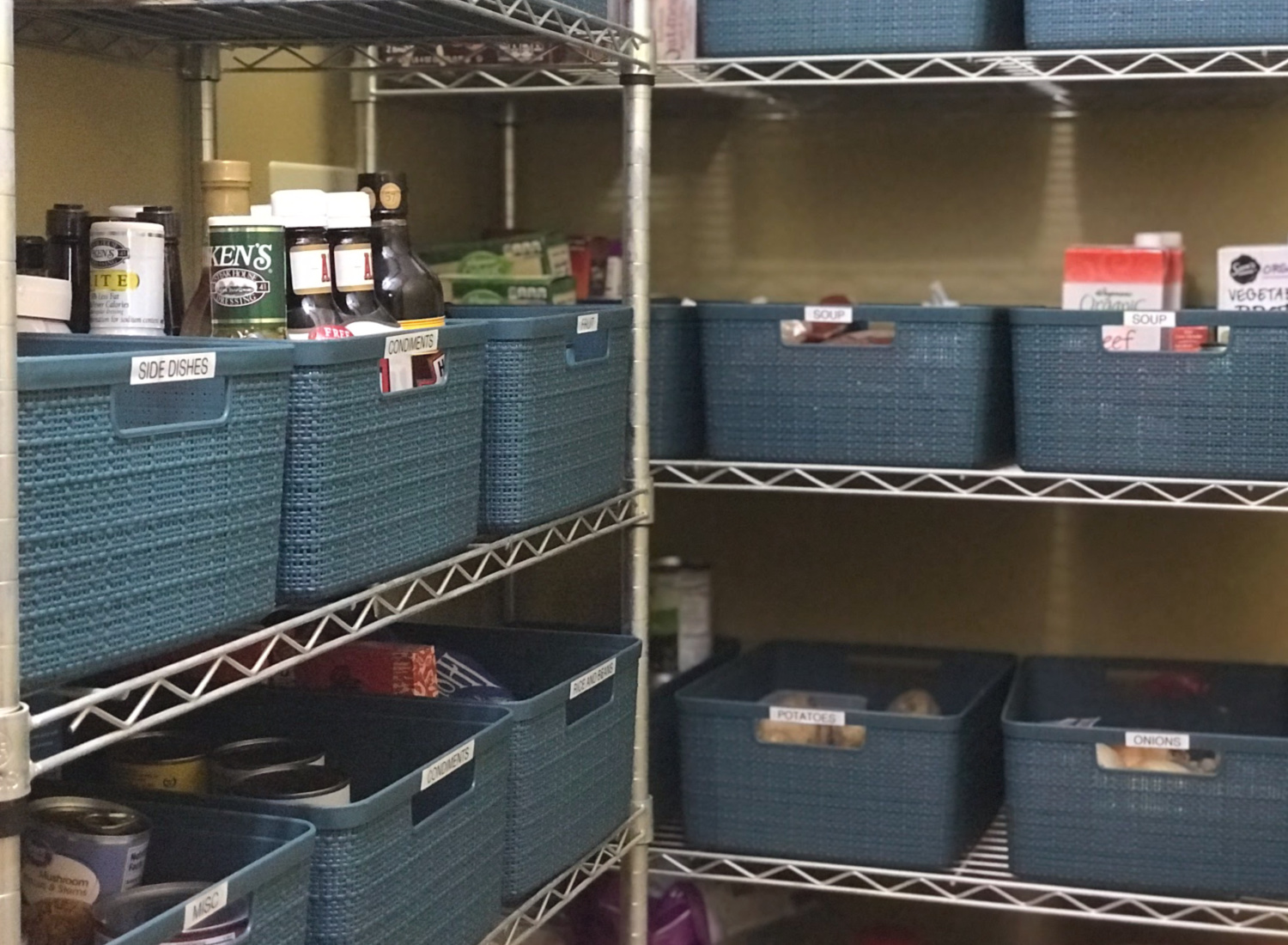 When setting your pantry it is important to remember what your organizing mentality is. If you require few steps then you will want to choose tools that help you get what you need fast. If pretty is more important to you, then looks should be the first on your list when choosing.
Don't overlook this part of organizing no matter what the size your project is. If you do not take into account your organizing mentality you may find your new set up too hard to stick to. And if you don't stick with it you will find your pantry a mess in no time.
What's next?
Now that you have some simple tips on how to organize a pantry with wire shelves you are on your way to a streamlined pantry. This also means you are ready to move on to another decluttering project. So, let's dive into that kitchen. Head on over and get ready to clean out your kitchen. The most important room in the home and a great place to begin creating a home you love.