Today we are going to declutter and organize medicines and supplements so you can streamline the pills you take every day.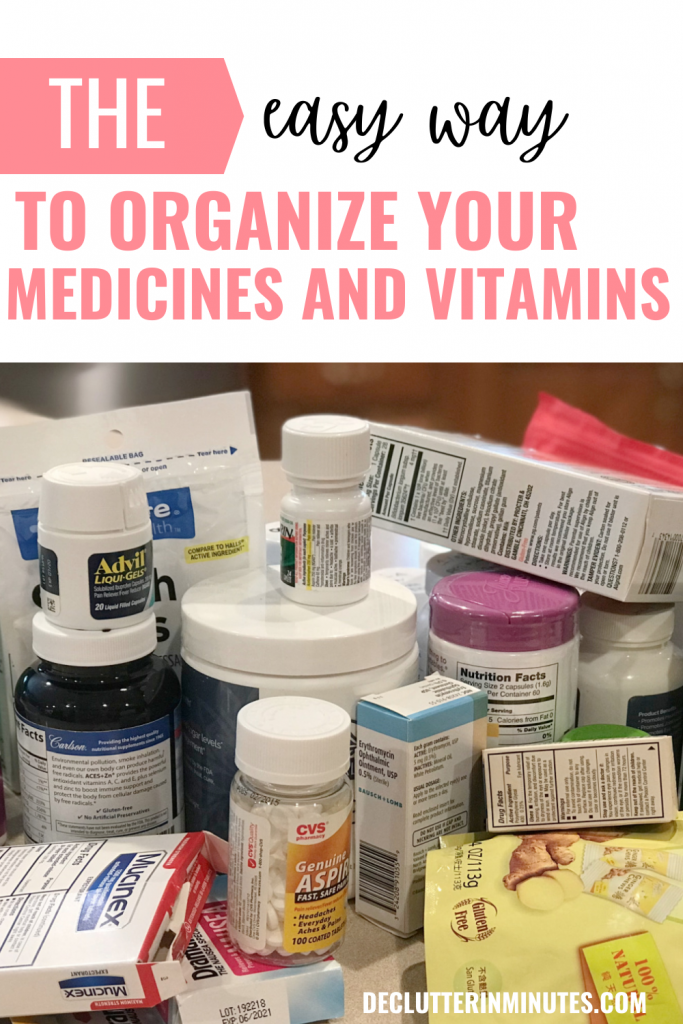 This morning I woke up with a stuffy nose and a cough. So I made my way to where we kept our medicines and pulled the basket down to the counter under the light so I can see exactly what I was looking for.
I reached in and grabbed a bottle of cough syrup and checked the date. Expired
Back in I went pulling out a second bottle and wouldn't you know it, that one was expired as well. And not just by a few months, I am talking years.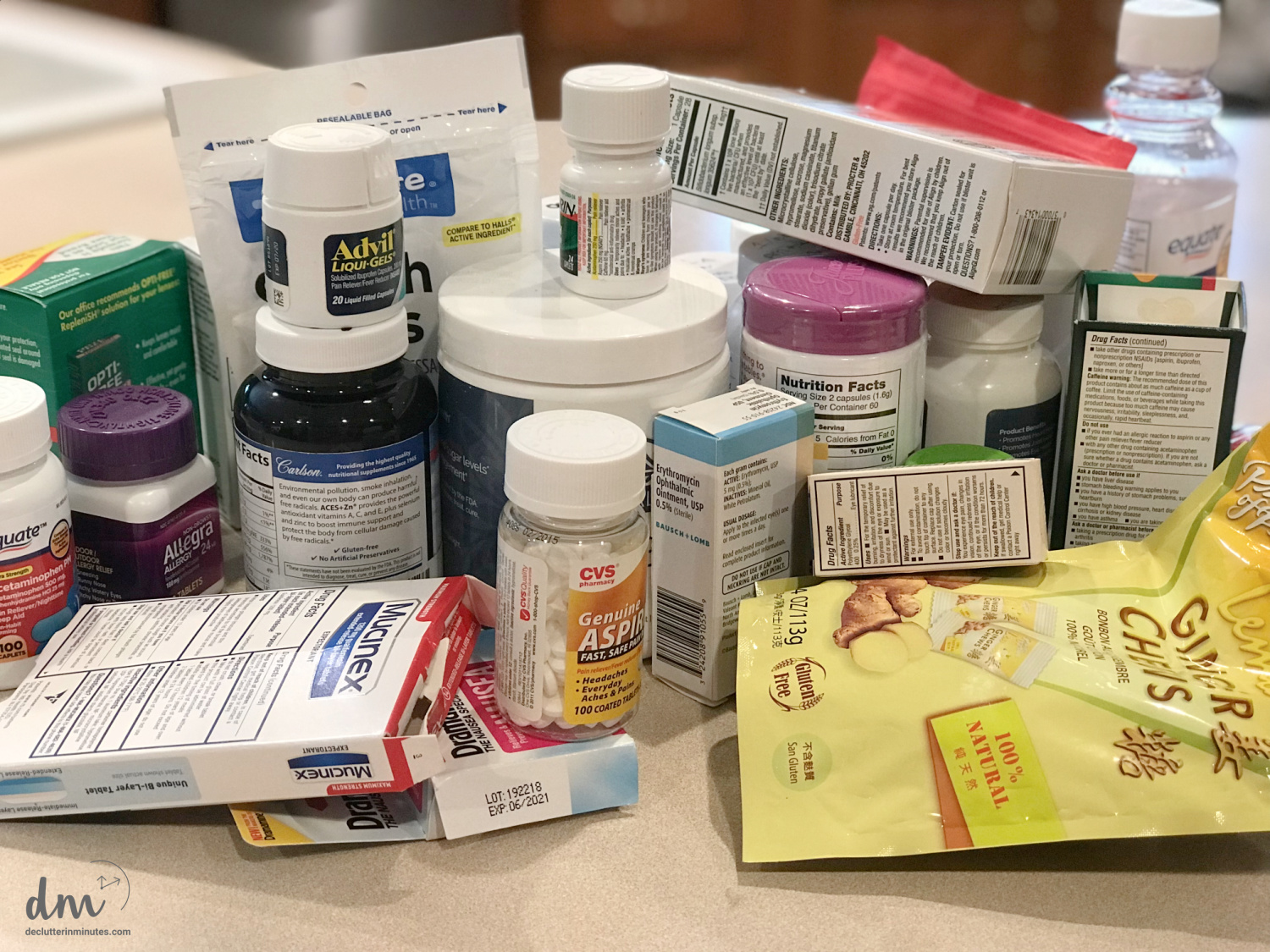 I worked my way through each bottle like a crazy game of go fish, getting more and more frustrated as I read the expiration dates.
Expired, expired, expired.
All that was left now was a single bag of cough drops. I picked it up only to see that 3 years had elapsed since I bought them.
This is usually where I get extremely frustrated with myself because once again, my clutter bug behavior is costing me money. Quite a bit of it actually.
We all know medicine isn't cheap and every year it gets more and more expensive. And yes, I'm all for a natural remedy here and there, but when I am sick. Really really sick. I need something that packs a punch. I need heavy-duty meds and I don't want to have to run to the store to grab a fresh supply.
Having an organizational system for every area in your home is the best way to streamline an efficient living space. But more often than not we put our focus on the bigger areas. Areas like the kitchen, the family room, and the bedroom.
And yes, those rooms are a great place to put your decluttering energy, but sometimes it's the smaller areas that are more important. It's the spaces that are hiding behind the cabinet doors, inside bathroom drawers, and even on the closet shelves that really need our attention the most.
Today we are going to tackle one space specifically.
How to Organize Medicines and Supplements
Before we do anything you first need to know exactly what you have. And for this project, it might take a bit longer to gather up all the medicines, supplements, and vitamins in your home.
Be sure to check your nightstand, kitchen cabinets, bathroom cabinets, purses, workout bags, and even your vehicle.
Before we can create an organized system for all the medications and supplements and vitamins that you have, we first need to know exactly what you are dealing with.
Get everything into one area so you can spread out and work through items one at a time. A kitchen table or large kitchen counter will work well for this project.
Prep an area that you can use for sorting out your medicines and supplements. Gather up a few decluttering supplies so you are ready to go.
Post-it notes
Black magic marker
Pen and a pad of paper
A large trash can
Ziploc baggies
Next, you will want to set up a sorting area the kitchen table is a great option as you should have enough room to sort things out completely. You can do this by creating different piles that specifically fit your family. Use Post-it notes to designate what will go where. So, for example, if you have very young children, you will want an infant medication area to sort their items out separately.
A few ideas to consider are:
Vitamins
Supplements
Cough medication
Cold medication
Pain reliever
Heartburn
Skin issues
Allergies
Infant medication
Pet medications
Family member-specific – if you or any of your family members have a series of prescriptions that you take, you will want to have an area for each person specifically.
I know this seems like a lot of back work but trust me on this, the more sorted out you are in this very first step the easier it will be to organize going forward. It will also help you to know exactly what containers will work best for each section and, finally, help you to better designate where to locate certain items so they are easily accessed by you and the rest of your appropriately aged family members.
Once you have your area labeled for sorting, you will want to go through each item paying close attention to the expiration date. If an item is expired and it is something that you know you will need within the next one to three months, write that item down on your pad and paper. This is your medication shopping list and one you will work on fulfilling as your household budget allows.
D/M Pro Tip: Before disposing of any medication be sure you were doing it correctly. You can contact your extension office or poison control for the best advice on how to dispose of medications and other items going forward.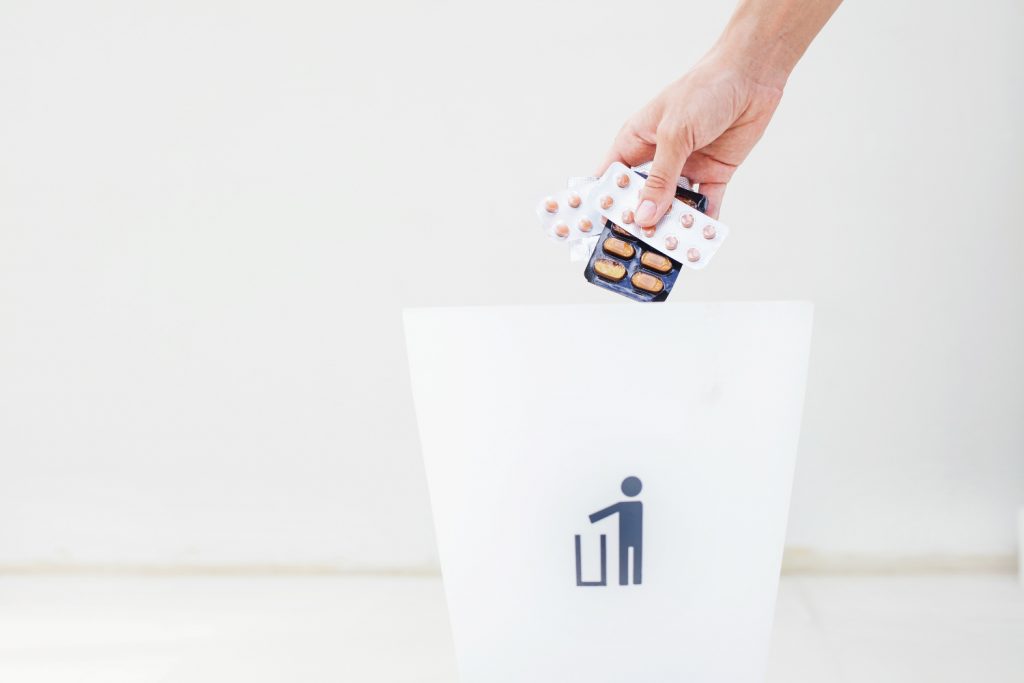 Continue sorting through your medications, vitamins, supplements, and other miscellaneous supplies putting them in the appropriate piles. If you see or you are missing a category in your sorting area, take a Post-It note and create room for one.
Once you're finished it is time to focus on each pile individually.
The first thing you want to do is to ensure that all the medication is appropriately contained. What I mean by that is, if you have a torn bag of cough drops that are spilling out, this is where you want to use a Ziploc baggie. Put the entire contents into the baggie and label the expiration date on the outside.
Next, you will want to decide where you would like to how's your medications, vitamins, and supplements going forward. Please keep in mind that the area you are using now does not need to be the area you use going forward.
Take our family for example. For the longest time we used to keep our medication in the bathroom but we eventually realized it is better to keep all of our medication and supplements in the kitchen. Most of the things that we take require either water, food, or both. To keep our setup more efficient for our entire family we now keep all of our daily medications in a lower cabinet and seasonal medications above our refrigerator.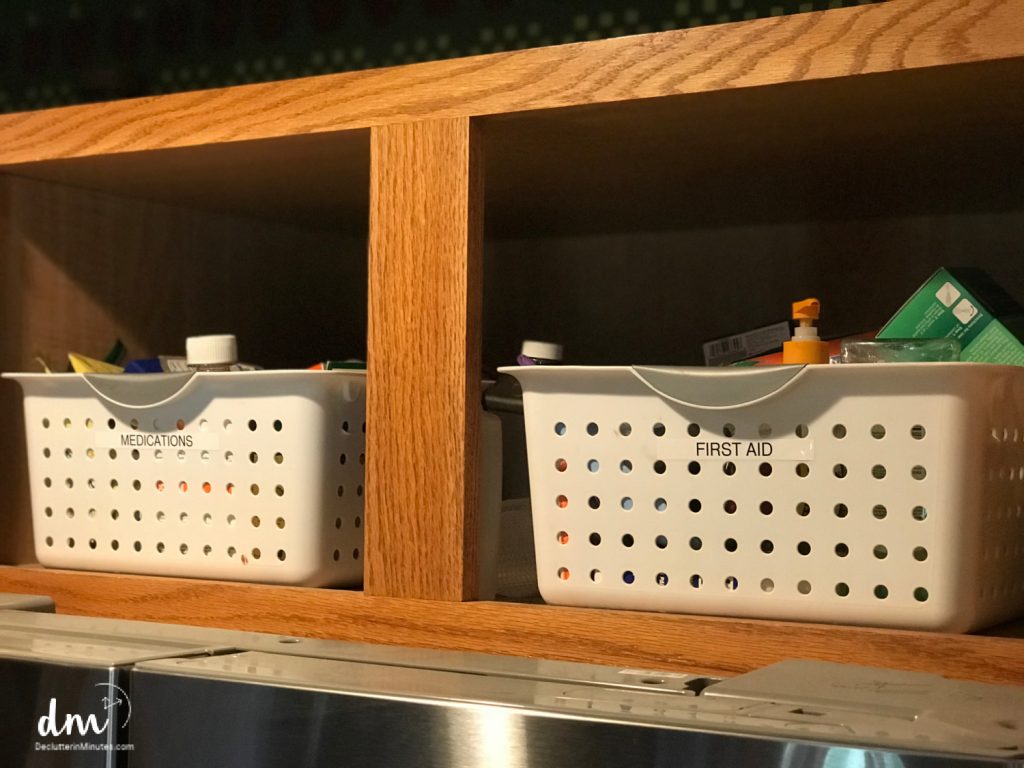 Everything is in the same room, yet located based on convenience and how often we use things.
A few areas for storing medications and supplements are:
A drawer next to your bed
A medicine cabinet in the bathroom
A shelf in a linen closet
A cabinet in the kitchen
A drawer in a kitchen
D/M Pro Tip: Remember if you have young children please keep all medications, vitamins, and supplements, up and out of their reach.
After you choose an area where you would like to locate your medicinal items you will next want to do a visual inventory of the space that you have available. This will help you to decide on the best containers that will allow you to keep this area clutter-free going forward.
Remember, our goal with any organizing project is to make it easy for us to find the items we are looking for and just as easy to put those items all the way away again.
If you notice a few weeks after setting up a newly organized area in your home is not working out as you planned, it is time to rethink things.
How will you know? If you see items that belong in that space lying out on counters and not being put away in their intended home. If you do, you may have a system that is just too complicated to work.
This is why I always suggest easier is the best way to go at least in the very beginning. Keep your organized areas to one step only. Baskets, bins, totes without lids and even cardboard boxes all work great to encourage ourselves and our family members to put things in their specific spots.
The more we can learn to put items into their home, the more likely we will never have to declutter a space over and over again.
For me, I am all about simplicity. I have one large basket where all of our medications are kept. The basket comes out when I need something inside and when I am done I can simply toss it right back inside.
Now, I am not saying this will work for everyone, you may want things a bit more organized out. Maybe the large basket appeals to you, but you would rather have color-coded bins inside of the basket to sort things down even more. You could do a small blue bin for cough medication, a red bin for allergies, and a green bin for infant medication.
Whatever you feel is going to help you stick with a system is the path that you want to take when organizing a new area.
Don't overthink it, there are no rules here. Keep it simple so you stick with it. This is always the goal of an organizing project.
Use Labels on Everything
One of your greatest assets when setting up a new system is labels. In the beginning, you will want them to be big, bold, or dare I say even ugly. Notecards work best for this. You can then use huge clothespins to hold them in place as you try out a newly organized area for your medications. As you let things coast for a while and see what works and what doesn't you can use more permanent labels that appeal to your sense of style.

Once you have a system down and set into place let it stay for a few weeks to even a few months. It's going to take some time for you to see what actually works and what doesn't. If you see an item sitting out on the counter as I said earlier, that is your cue that you may want to rethink the plan you set into place.
Try not to get frustrated if you have to redo this area several times before you find what works.
Okay, now let's have a little bit of fun. Let's talk about a few shortcuts that you can use to organize your medications in a way that keeps you up to date when taking them. This is especially helpful if you take supplements, vitamins, or are on prescription medications that need to be taken every day.
Lazy Susan
I love lazy susans and use them throughout my home. They are a great way to contain miscellaneous supplies while still keeping them all easy to access.
A few ideas for a lazy susan are:
Daily vitamins and or supplements
Deadly prescription medications
Herbal daily medicines
Other items you take routinely
You can keep the lazy susan on the kitchen counter, in a cabinet, or even a pantry. Where ever will work to ensure you are taking what you need every day/
Daily, Weekly, or Monthly Pill Container
When I first started taking supplements I had a really hard time remembering not only where they were, but when I needed to take them, and how I needed to take them.
I finally invested in a pill organizer.
Since I take a lot of pills every day, I like a pretty sophisticated organizer, but you do not have to go this hardcore. My husband, for example, prefers a simple pill organizer that has one container for each day of the week. He keeps it in his office at work and takes his supplements at lunchtime.
I on the other hand like my medications and supplements to be a bit more streamlined. I have some pills that I need to take three times a day and for that reason, a container for each day that is then separated into three compartments works best for me.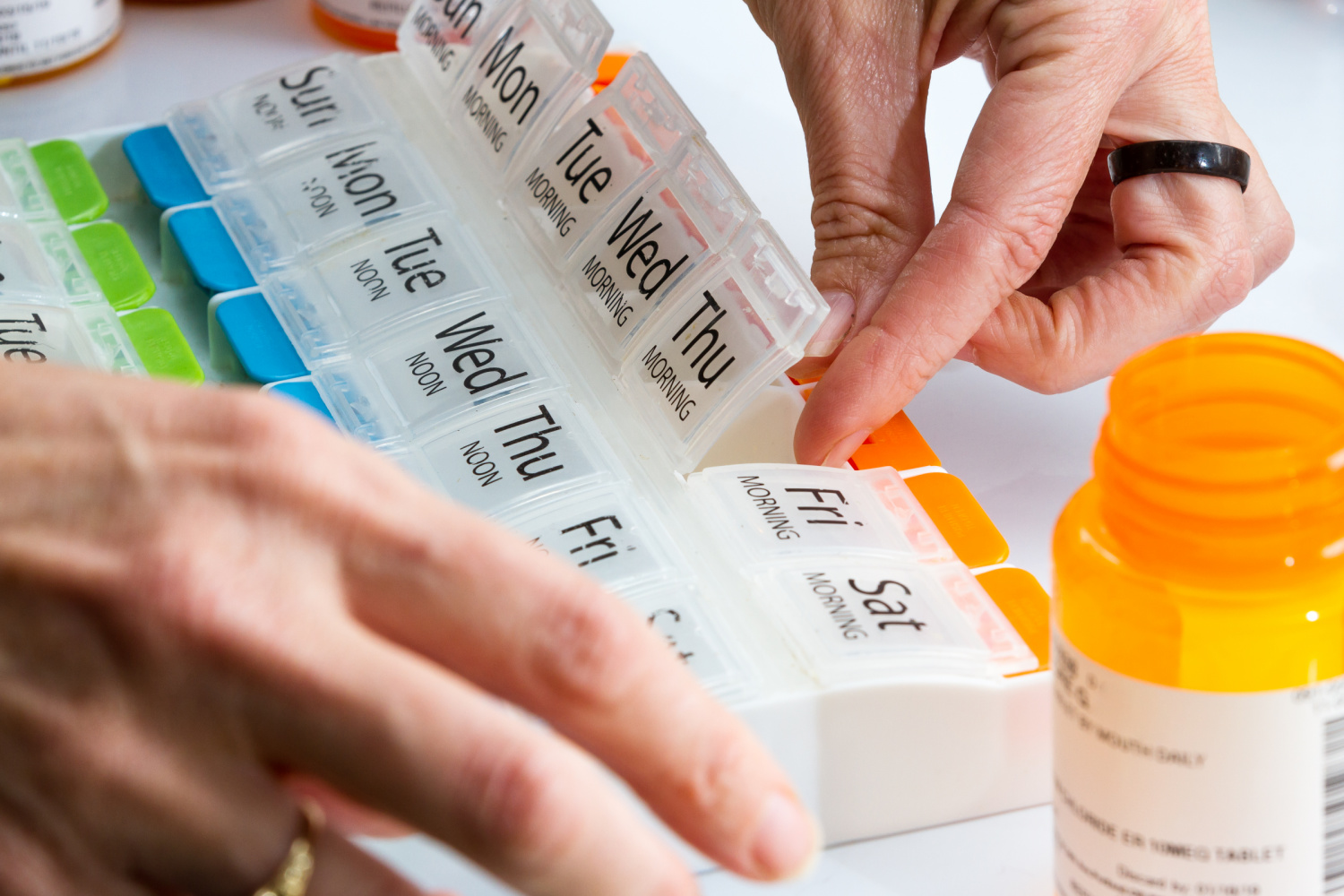 When using your pill organizer, it is all about location. Be sure to keep it where you will see it. On your desk in your office or next to your nightstand are two options to consider.
Each Sunday we both fill up our pill containers making sure that everything is ready to go for Monday morning. This is a great clutter-free habit to incorporate into your own weekly schedule.
D/M Pro Tip: Take an index card and write the directions for each of the pills that you take. Make a note if it needs to be taken with water, food, or on an empty stomach. This will be your reminder of how to take all of your supplements and medications without having to second-guess yourself.
A Bin for Each Family Member
If you have members in your family that are on specific supplements or medications, you may want to do a container for each person. You can use a bin with a secure lid, a pretty tray on a kitchen counter, or even a basket inside a medicine cabinet. If you choose to do this option, your label is going to play a key role. Be sure it is big, bold, and extremely specific so that only the person whose medication is found inside is the only person to access them.
Travel Containers
If you like to have a supply in your pocketbook, workout bag, or briefcase then a small travel container might be a good option for you. Now a note of caution on this, be sure that you note the expiration date on the container for any pills found inside. This will allow you to be confident knowing that you are always taking something that is within its "use by" date.
When it comes to medication and supplements the cost investment constitutes how important this task is. There's nothing more frustrating than throwing out tens of dollars in expired medications. But good news, once you have a system set into place, you will save so much money going forward.
Routine Maintenance.
To ensure your system works the very best, plan to go through things every three months to ensure that supplies are staying up-to-date and in stock. You can put a reminder in your calendar file, one on your smartphone, or even a reminder on your wall calendar.
Take a few minutes to revisit each container of medication in a routine timeframe and you will keep this system one that is super beneficial to you and your entire family