While everyone is busy getting ready for the holiday season, full of eggnog and mistletoe, we're thinking ahead to how in the world we're going to store all of the holly and jolly decorations. No time is it easier to set up a system to store your holiday decorations. While you have everything out where you can see it so you know just what tools you need to store and organize things safely. 
Here are some of the best places where xyou can safely store Christmas decorations, what containers to store these Christmas decorations in, and tips and tricks to make decorating a breeze for years to come!
Let's face it. Holiday decorations are a bit different than most of our things. They are mostly all fragile and therefore need a safe place to be stored away. They are only needed once a year and therefore our reason for having (probably) more than is needed. And they each come with its own purpose. A memory that keeps it strongly attached to our hearts.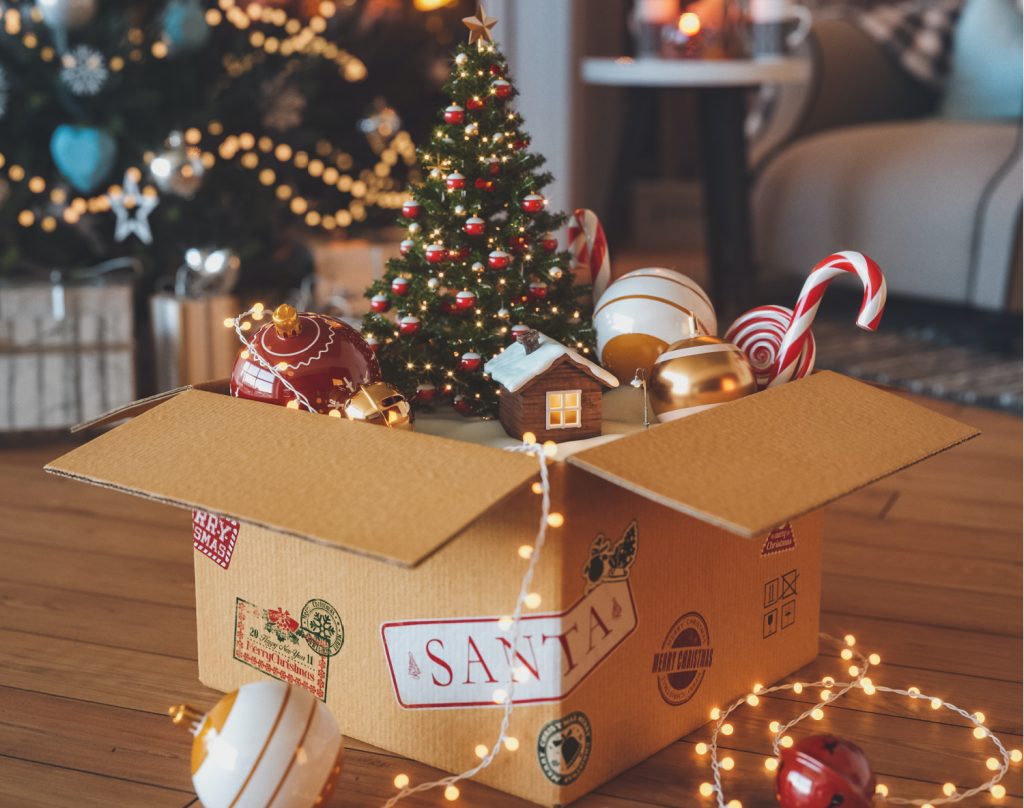 With so much attached to each tiny ornament it is important to set up a system for storing things so our decorations last just as long as our love for the holidays does.
Where and How to Store Holiday Decorations
Store your Christmas Decorations in your Attic
One of the most common places to store decor, or really any miscellaneous home item, is in the attic. And if your home has one, this is the best place to start. It's a perfect place to get things out of your hair and away from the everyday hustle and bustle. Christmas decorations are no exception and actually do quite well when stored in this space.
My top pick for storing holiday decorations in an attic is totes. These stackable, plastic containers are great for areas that are not climate controlled. Since most attics are limited on insulation, using the right storage is crucial to keeping our decorations safe and sound. 
Having stackable containers also is a space-saver — Since many attics are near the pitch of the roof, you can stack these decoration designated containers high, making room for other things you may want to put in your attic.
D/M PRO TIP: If you have quite a bit stored in your attic, you can use colored totes to match the holiday. This will make finding the exact decorations you need more quickly and easily. Red for Christmas, orange for Halloween, even blue for patriotic holidays. You can find just about any color and slowly start transferring items from cardboard boxes to colored totes each time you decorate for a new holiday. 
Holiday storage solutions for the attic:
Clear totes – Great because you can see just what is inside without having to open the box.
Colored totes – Great because you can match the color of the holiday.
Store your Christmas Decorations in your Closet
Not everyone has Christmas decorations to justify using attic space — No worries, I am not calling you a Grinch, but maybe rustic farmhouse Christmas decor from the front door to the bathrooms isn't everyone's jam. I totally get that. 
That's why storing Christmas decorations in a closet is a perfect holiday decoration solution if you don't have that much mistletoe. Storing your Christmas decorations in your closet also has the added perk of being inside the home, where you don't have to worry about a climate control solution like you do with other options found here. 
Using variously sized cardboard boxes, shoe boxes, or miscellaneous containers and/or boxes will do the trick in your closet to safely and efficiently store your Christmas decorations. A great use for all the boxes that night just be stacking up this holiday season. 
A few things to remember if you chose to use boxes to store your decorations.
Choose a box that is sturdy.
Choose a box that is small enough for you to move around safely.
If you can, choose a box that has holes on either side that you can as for handles.
Be sure you have a big and bold label so you know just exactly what is inside of each box.
Holiday storage solutions for the closet:
Boxes – if you do not have a supply of good boxes you can purchase a set to get you started.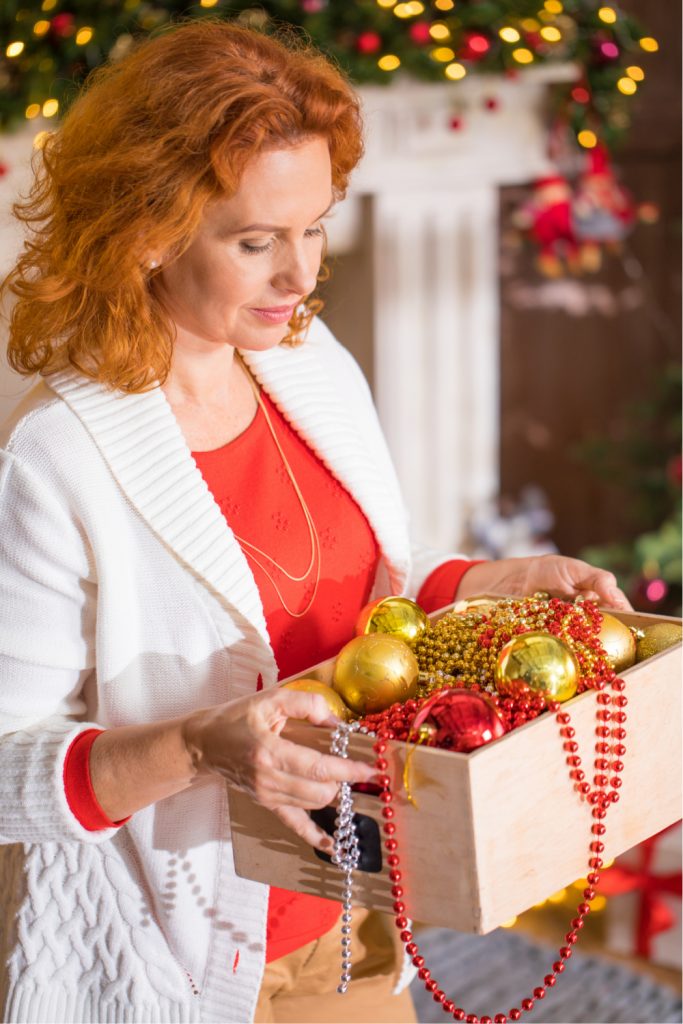 D/M PRO TIP: Don't buy boxes to store your things! Just keep a collection in your home whenever you need them. Each time you get a good and sturdy box with your online purchase, break it down and store in a closet, basement, or another area. This is your go-to supply the next time you need a box for donations or even organizing. 
Store your Christmas Decorations Under your Bed
One of my favorite Christmas decoration solutions is storing Christmas decorations in creative places like under the bed. It's an empty space that is unused during the entire year, so why not take advantage of that? No need to take up precious real estate in your attic or closet when you can tuck away ornaments and Christmas lights under your bed or a spare bed in a guest room. No Christmas boogyman required!
My favorite tool for under the bed storage is wheeled plastic containers. They are spacious and, since they're mobile, they are easy to grab when it's time to start decorating. If that's not in your budget, boxes that will fit under the bed will also work, since climate control isn't an issue.
Don't have space for boxes or plastic containers? Take it back to your college dorm days and use bed risers to create that extra inch or two for your Christmas decor.
Holiday storage solution:
Under the bed totes – A great way to utilize space you may be missing out on.
Under the bed boxes – A more economical solution
Fabric storage containers – An in-between choice that will work quite well for storage under your bed.
Store your Christmas Decorations in your Basement or Garage 
If none of the above options work for you to store your Christmas decorations in, the basement or garage may be your next best option. While it's not my favorite holiday decoration solution, it will do just fine if you use those climate control containers. Remember to use containers that will safely store your decorations to help preserve the sentimental value they most likely hold. 
Holiday storage solution:
Plastic totes – A great option for any area where weather and dampness is an issue.
Holiday Decoration Storage Tips
Tip #1. Designate
With any of the storage options above, it is important to designate specific spaces for your seasonal decorations. Instead of storing ornaments and garland in with Christmas china, try to segment out your decor. All garland and garland-like items in one box, all ornaments in one box near the tree, if you put up a fake Christmas tree each year.
Remember the haphazardness and disorganization of tossing things in a box now will only lead to anxiety next year at decorating time. That is why I like to encourage you to take the time up-front during the holidays. Since you have everything out on display you can more easily see just what containers you need and how many. 
Tip #2. Use the best container
Years ago our options for storing items was very limited but lucky for us, today that has all changed. Now you can find specific organizers for our decorations that are meant to house these delicate items in the safest way. Let's go over a few ideas that you may want to consider.
Ornament storage – You can either chose plastic ornament totes allowing you to stack things without risking damage or canvas ornament bags that are easier to move around.
Wreath storage – Again you have a plastic tote option or a much more affordable canvas wreath bag.
Tip :3. Organize your totes 
This tip will all depend on how you like your decorations organized. Basically, you have two options here. Read them both and chose which one works the best for you. Or you can do a mixture of both options if that is what you like.
Option #1. Set up each tote to hold the same items. This will allow you to find whatever it is you need when you are decorating your home.
You can set up a tote for each of the following:
Wreaths
Bows
Garland
Holiday Pillows
Ornaments
Wall hangings
Knick Knacks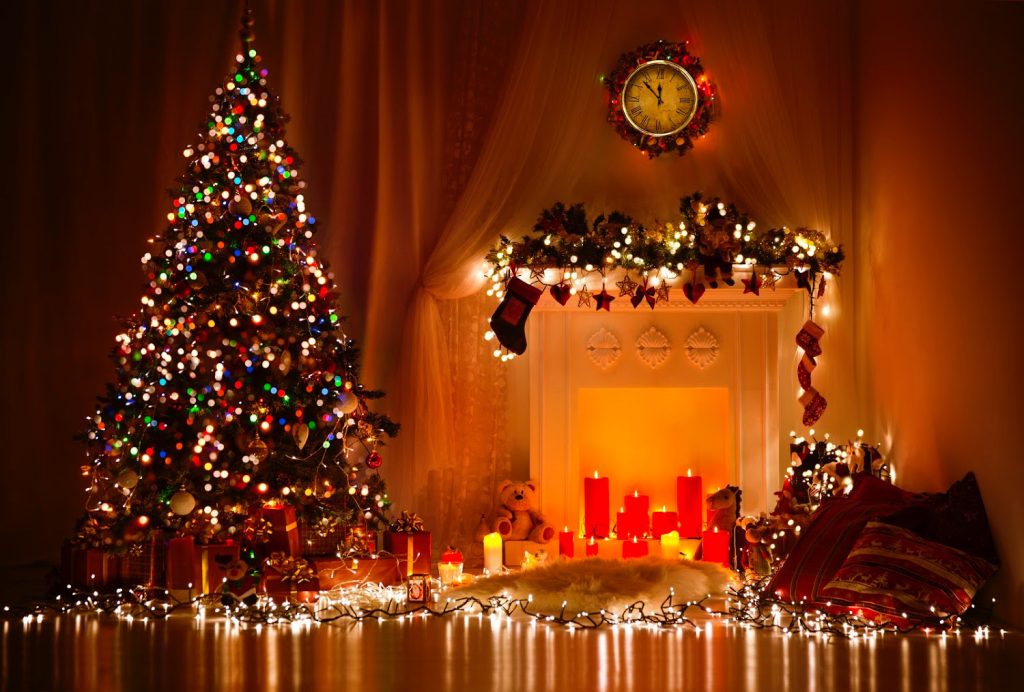 Tip #4. Stop Tangled Lights for Good!
There is nothing so frustrating than a tangled set of lights and if you use this next tip you will never need to worry about them again! When you take your lights down this year, wrap them around a piece of cardboard tucking the end in when you are done. This super simple (and free) tip is all you need to ensure your holiday twinkle lights stay tangle-free next year. Be sure to label each piece so you know where the lights go, another tip that will save you so much time when you decorate again.
D/M PRO TIP: Did you set up an area in your home that you just love? A fireplace mantel or the window in your family room? Why not take a picture and put it inside of the storage container with all the decorations? This will save you so much time next year because you are giving yourself a map to follow along with. 
Tip #4. Label Everything
Along the same vein, don't forget to label everything — and I mean everything. Again, this will make your life easier each season in the long haul. My best advice for you is to invest in a good label maker. This was one of my first organizing purchases and it was quite possibly the smartest move I made. Having a label maker will help you not to skip this step in any organizing project. Labels are the key to any of your new systems working for the long haul. Trust me, you will never remember 12 months from now that you stored your Santa Collection in that big blue tote. Take a few seconds to make a label and relax knowing this organizing project is completely done. 
Storing your Christmas Decorations doesn't have to be frustrating or overwhelming. With some simple planning and the proper tools are your disposal, you can set yourself up for Christmas season success year after year!
Do you have any tips on how to store holiday decorations? Please share in the comments below!