Do you have a dinner coming up that you are a bit freaked out over? Is your guest list bigger than your kitchen table? Do you wish you could just host a stress-free holiday dinner party this time but seriously don't know where to start? Maybe you bought a new house and want to show it off to your friends and family, or you've been passed the sacred torch of holiday party hosting because your mom is tired of dealing with it.
No worries, we've got you covered.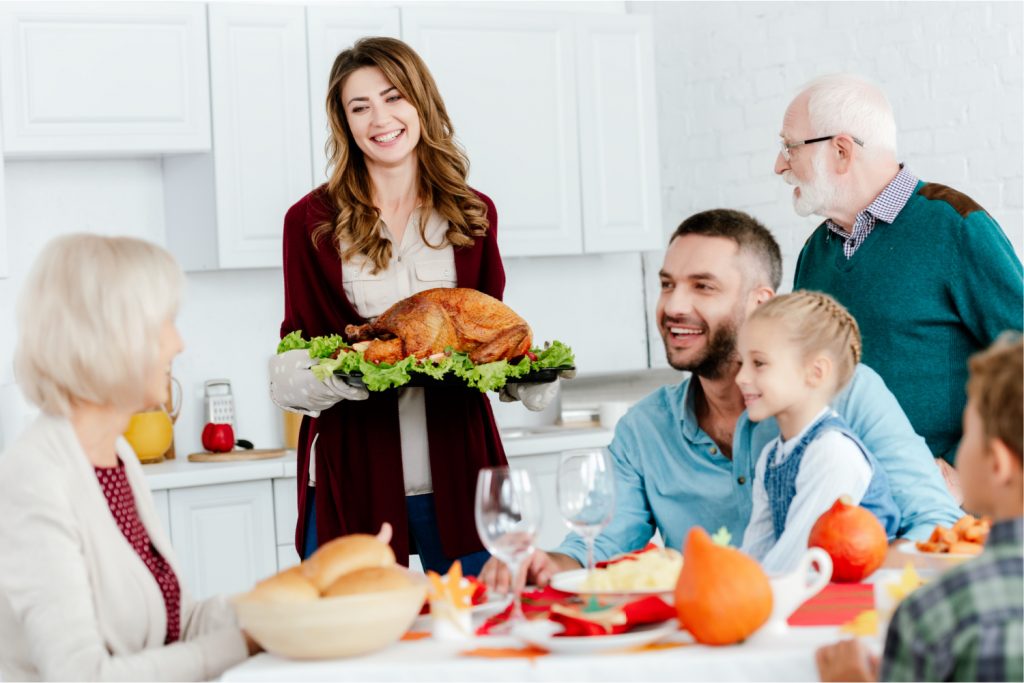 5 ways you can host a stress-free holiday dinner!
It's true, the secret to turning anything big and overwhelming into just a walk in the park is to break it down. Make a list and break it down into small tasks you can just plop down into your weekly to-do list and check things off as you go along. When you do things this way, the hardest part ends up being the "write it all down" and that might just be the best gift you can get.
Make a list, check it twice beforehand
(2-3 weeks out)
As the big man in red recommends, make a list and check it twice. There's no such thing as being too prepared when you are hosting a family dinner party, especially around the busy holiday season. Take time two weeks beforehand to sit down and make a list of everything you need to be successful. Trust me on this, there's nothing worse than getting to the day of the party and realizing you forgot something.
Need a bit of help with where to start? Grab your FREE Thanksgiving planner and use the pages found inside to map out a plan you can work with!
Being prepared takes the stress out of hosting any event and is key to hosting a stress-free holiday dinner. And I believe the earlier you do this list the better off you will be. I like to shoot for 3 weeks prior so I know for sure I have enough time to do all the things without sacrificing days and my sanity to get ready.
This list can include but is not limited to:
Food – What are you making? 
Main Meals you are cooking for dinner

Contributed food by guests

Side dishes

Appetizers and predinner snacks

Drinks

Alcoholic

Non-Alcoholic

Kiddie drinks

Desserts
Utensils need by guests 
Silverware

Plates

Napkins

Drinking cups

Cooking utensils

Baking utensils 

Baking sheets

Pots + Pans

Casserole dishes
Decorations for the dinner 
Tables

Table clothes

Centerpieces 
Serving tools and dishes 
Buffet trays

Serving trays

Serving utensils

Chafer Heaters 
Cleaning supplies for before and after
Trash bags

Tupperware/Pyrex

Dish detergent

Soap
Misc extras
Dishes for guest's care packages
Music
A centerpiece for the table
Place settings
READ: HOW TO DIY FUN AND EASY PLACE SETTINGS
Planning ahead, especially when it comes to what you need, is the best way to set up your holiday dinner to be stress-free.
Take Inventory beforehand
(2 Weeks out)
A few weeks before the main event, go through your pantry, refrigerator, and freezer and take inventory of everything that you have food-wise. 
Taking inventory of what you have allows you to cut back on food costs and not double buy anything not to mention saving money and cutting down on food waste, which is better for the environment.
According to Bankrate, the average cost of Christmas dinner is $152. If you're planning for more than just your nuclear family, that cost has the potential to skyrocket. Our goal with planning is to not only remove the stress of the event but also the stress of spending more than you need to. 
Take inventory of what you have, stick to your budget when you go out and shop, and make sure to plan your grocery trip ahead of time. Just these few simple tips can save you big at the store. 
Clean and organize your space beforehand
(1 week out)
The weekend before is a great time to give your home and good clean and organization. I know that this may be a daunting task, but it is a necessary one. Let's simplify it just a bit and put your focus on the key rooms you will need.
The kitchen – Set up an organized cooking area that you can work in without stressing. 

The entryway – Clear off hooks so they are ready to hold coats. 

The guest bath – Stock with supplies and add in a scented candle. TIP: if you have young kids, put a sign up keeping this room off-limits until guests arrive. 

Guest rooms (if needed) – Fresh linens, fluff pillows, sweep floors.

The family room – Vacuum furniture and declutter any open surfaces. 
Divide and conquer is another approach and a great way to get a bit of help in this area. Call in the family troops and do a clean-sweep of the high traffic areas of your house during the holiday dinner. 
Make sure your kitchen is organized and clean, you know where everything is, and the space is ready for you to cook up a storm. Clear out space for tables and chairs in the dining or living areas and don't forget to clean your guest bathrooms. Be sure you have plenty of toilet paper, a fresh set of hand towels, and enough hand soap to get through the entire day. 
D/M PRO TIP: One of the biggest stress causes is an unorganized space. Looking for things can freak anyone out and by just doing a quick clean and sort of the main areas you will really cut down on the unnecessary stress unorder can bring. Yes, when your home is organized and clean, you have less stress and can work in an easier way.
Keep your guest list smaller in size
(4 weeks out)
The best way to keep any event stress-free, from holiday get-togethers to weddings, is to keep the guest list small. Now, I know that this can be a challenge when you have a large family, however, if you're on a budget or if you're new to hosting, this may be the best time to cut your list back just a bit. 
D/M PRO TIP: If this is the first time you are hosting dinner, keeping a smaller guest list is a great tip to keep in mind. Once you invite someone on year, they usually expect the invitation the next. Start out small and you can always grow the list later on once you get the hang of things. 
Remember a smaller guest list cuts back on the food supplies, decor, utensils, and overall chaos of preparing, hosting, and cleaning up a holiday dinner.
Ask for help
(2 weeks out)
There is nothing wrong with asking guests to contribute to the dinner. Actually, most guests prefer to come with something in hand. The key is to know beforehand what you hope to have your guests bring and make suggestions if they ask to contribute. This will also keep your menu intact without having more desserts than you can possibly use.
Potlucks are a fantastic way to take the stress off of a typical one-person show. Offer to provide the drinks and the main dish and see what others can contribute to the party!
Use the page in the Thanksgiving Planner to keep track of who is coming and what they are set to bring.
Simplicity is the spice of life
You don't have to go all Biltmore Estate or Julia Childs during the holidays. In fact, keeping your holiday dinner simple is the secret sauce to making it a stress-free holiday dinner. I know that you want to impress and be the "hostess with the mostest," but people will remember the laughs and conversations over the centerpieces and tinsel. Trust me on this one.
Here are a few ideas:
Use crockpots for dishes such as mashed potatoes. Make them the day before and simply turn it on a few hours before dinner is set to begin. 
Pre-chop any ingredients the day before. When you are cooking all you need to do is dump and go without the extra steps.
Make desserts the day (or two) before. Before you sit down to eat, place pies in the oven at a warm only setting. When it's time for dessert your pies will literally taste like they just came out of the oven.
Set up a dessert station off to the side before guests arrive. This way you can just flow to desserts without having to set anything up.
Before you begin cooking fill the sink with soapy water. As you cook toss in any dishes to soak this will make clean up so much easier.
Set up a coffee station as well. Prep the coffee maker and have a selection of seasonal creams, sugar, and cups all ready to go.
Use the timeline in the FREE Thanksgiving planner to map out a day that you can just follow along stress-free!
Try your best to keep your holiday dinner simple. By simple, I mean opting for traditional dishes over extravagant, time-consuming ones. Keep decor to a minimum, incorporating what you are already using in your household during the holidays. If your family is up for it, ask others to contribute to the holiday dinner. 
The holidays are a prime season to stress and worry about all things family, events, and activities. With this easy, 3-step guide, you can put that anxiety aside and enjoy a stress-free holiday dinner!