How to keep a house clean when you are too busy. An hour a day home cleaning tips that you will love! 
I am not one of those people that just love to clean. And I am pretty confident that I am not alone on this. I seriously hate to do it and maybe that is why since I was a first time married wife, I would put it off over and over until it became such a monumental task I took an entire weekend to do it all. And there is nothing worse, in my opinion, then spending an entire weekend cleaning a house.
Unfortunately, there is no way to get out of it. Cleaning is just something everyone has to do. And I am not here to share with you any big secret that will keep your house clean without lifting a finger. 
It still needs to be done. 
The trick to making cleaning easier is not what you do but instead when you do it. Yes, if you want to make cleaning easier it's all about the timing. 
When I am faced with anything big I will find a way to break it down into bite-sized steps so it is much (much) easier to do. And that includes cleaning my house. 
By breaking things down I can tuck those cleaning tasks into smaller pockets of time so instead of sacrificing my family time on a warm and sunny Saturday to scrub my kitchen floors, I am instead out enjoying a picnic with my feet up. 
Sounds amazing, right? Sure, and luckily it's not impossible. Or even hard for that matter. 
Now, before we go any further you need to understand that this is cleaning and not decluttering. Decluttering is a whole other project and one I encourage you to tackle before trying this system out. If you want to see how to declutter the super-easy way you can find out more here. How to Declutter your Entire Home Step by Step. 
Cleaning is definitely easier to do if you are not having to constantly move things that are lying about. The best advice I can give it this. The more you can declutter the easier it will be to keep your home clean. 
What exactly is considered hour a day home cleaning? 
Hour a day home cleaning is most definitely not spring cleaning. We are not going to shampoo carpets or wash window curtains. 
This is not daily things you need to be doing, like dishes after dinner or making your bed.
This is not decluttering as I said before, decluttering is a whole other animal. (Read how to declutter here) 
Hour a day cleaning is how you can more simply keep a tidy home without devoting an entire day to clean it. By breaking things down in small steps it will be easier for you to fit cleaning in your daily routine. And the magic of this entire system is that when you do a little each day your home never gets to that tornado/hurricane point ever again. 
How to Keep Your Home Clean – Hour A Day Home Cleaning Tips
Step #1. Make a list of all the things you normally do when you clean your home.
Remember we're not spring cleaning, these are just the basic chores that you do whenever you clean your house. I find it's easier to do a list when I'm actually in the room. What I mean by that is, I will take a tablet and a pen and sit in the family room and write up a list of what I need to do to clean that space. I'm a visual person and when I'm in the room I can simply look around making it easier for me to remember all the things that I need to do done to keep things neat and clean.  
Step 2. Prioritize each item on your room cleaning list.
Once you have a list written up for each room in your home, you may notice the sheer size is enough to make you catch your breath. No worries, we are going to pare things down just a bit by prioritizing. The easiest way to do this is with a simple highlighter.
Go down your list and highlight each cleaning task that you want to do every single week in that particular room. For example, sweeping the kitchen floor is something that needs to be done every single week, whereas vacuuming the stairs could probably be held off and done just once a month. Your goal is to find the basic chores that you want to get done in each room weekly. Try to keep in mind that you only have an hour each day to work in this room, and choose the tasks that will fit more easily into that time frame.
Step 3. Assign each day it's own room.
This is where the Magic Begins. Your goal is to pick a room for each day of the week being sure to look at your schedule so it works with what you have planned for the day. So if normally you work full days on Tuesday, then you're not going to want to clean the kitchen on Tuesdays. It may be better to put an easier job on your busiest days so that this system is simple to keep up with. Not sure what an easy room is? Maybe the bathroom or the family room would be a good option.
Step 4. Schedule a time.
Once you have your room assigned to a day you will want to go one step further and pick the time as well. This small step is really important to make sure this all works as planned. By treating cleaning your home as it if was an appointment and not something you can put off until later, you are telling yourself this is important and needs your attention. That once step really ensures it actually does get done.
When picking a time, choose what makes the most sense for you. I like to do mine in mid-morning, which allows me to take a break from my home job so I can basically reset my mind just a bit. By giving myself a brand new task to focus on, it allows my head to clear a bit and recharge my battery so I'm able to dive right back into my job when I'm done.
D/M PRO TIP: Set a reminder on your phone for when you plan to do your hour a day home cleaning. This little tap on the shoulder is the perfect way to make sure your room gets done. I love to use my phone to remind me. It really is a great way to stay on track when you are trying something new. 
Step 5. Make it more enjoyable.
Okay, maybe not the easiest thing in the world to do, especially for me, but I have found a way to make it at least bearable enough that I won't avoid it like the plague.
I love to listen to audible books, books you can listen to with headphones. And if I have a good book I actually look forward to cleaning just so I can take a break and listen to it. You can find audible books that you can download and listen too from your local library or you can join a membership club, like Audible. The best part about Audible is you get to keep the books once you buy them so you can listen to them over and over again.
Not a fan of books? Then a playlist might be your thing. You can download 60 minutes' worth of music and that will not only be your distraction but your timer as well. You can even download a different playlist for each room.
Step 6. Making it work. 
When its time to work on the room for the day, simply grab your list and go down doing the items you highlighted in yellow, the first time you do this you may add a few things to the list or even take a few things away. As you start using this new system you will see what things you want to do every week and what things can be put off less frequently.
As you get used to cleaning one room each day you will begin to finalize the list of cleaning chores that you do in each room. Once you do that, then you can set up an actual cleaning schedule that you can refer to every single day. Get your free copy of our cleaning planner to create a schedule that works for you and your family.
How to set up a 1-hour cleaning schedule room by room.
Before we dive into each room, it's important to remember how to clean the most effectively. What I mean by that is, use gravity in your favor cleaning from high too low. Wash and dust high surfaces such as shelving, and finish up by sweeping the floor or vacuuming. The goal of this system working the best is to make sure that you're only doing things in the most efficient way. Remember no one likes to clean, so let's make this job as easy as possible!
Day 1 – Weekly cleaning list for the kitchen.
Put away anything in this space such as clothes, dishes, food, things that belong somewhere else, and trash.

Do the dishes or empty/load the dishwasher.

If you have shelving in your kitchen, work there first, you can use a feather duster or a Swiffer Duster.

Wipe down any splashes on any walls or windows that you see.

Washdown countertops being sure to get the backsplash if needed.

Wash the appliances.

Wash the kitchen sink and faucet.

Wash the kitchen table and the chairs and along with any bar stools if you have them.

Shake any floor rugs and hang outside to air out.

Sweep the kitchen floor.

Scrub the kitchen floor. 

Empty the trash.

Take any dirty sponges, rags, or towels to the laundry.
Day 2 – Weekly Cleaning List for Kitchen Food Areas
I like to clean the food area separate from the kitchen because that is a chore all its own that needs its own day. It is important to clean out your refrigerator and food pantries every single week, this is the easiest way to make sure that you're using up your food before it goes bad.
D/M PRO TIP: Whenever you clean out these areas be sure to have a pad and paper or your shopping list nearby. As you see things that are running low, add them to your shopping list. Remember the way to make things easier to do is to combine tasks whenever possible. Making your shopping list while you are cleaning is one of those tips.
Refridgerator
Empty out your refrigerator, sorting things on the kitchen counter as you do.

Throw out any food that is spoiled or out-of-date.

Using soapy water wash down the inside of your refrigerator including the shelves, doors, and drawers.

Take a minute to wash the seal of the door as well.

Return the items to the refrigerator giving them a quick wipe down as you do so.
If your refrigerator is cluttered you can learn organizing tips for food storage here.
Food Storage and Pantry
Empty everything out organizing things on the kitchen counter as you go.

Remember to make a note on your shopping list for anything you are running low on.

Using a soapy water wipe down the inside of your pantry or cabinet.

Replace items back into the pantry organizing as you do so.
Day 3 – Weekly Cleaning List for the Family Room
The trick to keeping this room clean is to have baskets and bins to catch items that your family uses most frequently in this space. A few ideas are a basket for blankets, a basket for throw pillows, a bin for toys, a cabinet for games. This is one of those spaces were organizing really does help keep the room looking tidy.
Put away anything in this space such as clothes, dishes, food, things that belong somewhere else, and trash.

Shake any throw blankets from the couch give things a quick smell and wash if necessary. 

Using a broom or vacuum clean the furniture quickly removing any food crumbs or pet hair

Dust any shelving and furniture from high to low.

Dust the television and other electronics.

Vacuum the carpets or sweep the floors.
Day 4 – Weekly Cleaning List for the Master Bedroom
The biggest chore in this space during my weekly clean is to change the sheets. I find that by changing the sheets each week it keeps my bed fresh and smelling great. For me getting a good night's rest is the most important part of my day, so I will do whatever I can to keep my room as neat and tidy as possible.
Put away anything in this space such as clothes, dishes, food, things that belong somewhere else, and trash.

Start by changing the sheets and making the bed.

Take any and all dirty clothes to the laundry.

Dust any upper shelving all the way down to the furniture.

Vacuum or sweep the floors shake and vacuum any throw rugs you have in the room. 
Day 6 – Weekly Cleaning List for the Bathrooms
Put away anything in this space such as clothes, dishes, food, things that belong somewhere else, and trash.

Empty trash cans.

Wipe down the sink and the backsplash if needed.

Wash down the toilet, the back, and the base.

Wipe down any furniture or shelving in this room.

Wipe down walls if needed.
Shake the rugs.

Sweep and wash the floor.

Clean the mirror.
Stock up on supplies.

Replace towels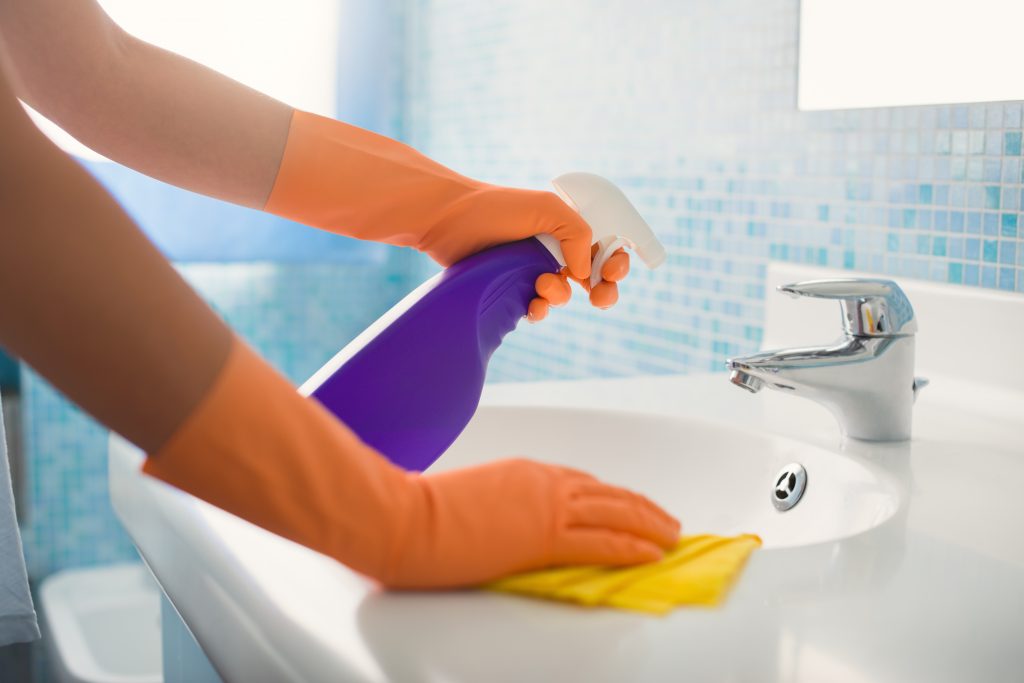 Day 7 – Weekly Cleaning List for the Other Rooms
No matter what spaces you have that are not listed here, you can add them to your weekly cleaning schedule just as easily as the rest. This can include playrooms, rec rooms, hobby rooms, dining rooms whatever you have that you usually clean each week. The point is to make a list that you can just follow along to without having to stop and think and devote entire weekends to cleaning.
Put away anything in this space such as clothes, dishes, food, things that belong somewhere else, and trash.
If it's a bedroom, change the sheets and/or make the beds.
Dust any furniture starting high to low.
Clean any other surfaces in this space.
Do the floors.
By listing out what all needs to be done, then breaking things down into lists that can be completed in small pockets of time you will turn cleaning your home into just a part of your day. At first it may seem like a huge time suck, but after you realize that come Saturday you have the entire day ahead of you for projects or even fun, you may agree with me that this is definitely the way to go.
Hour a day cleaning changed everything for me and completely freed up my schedule for things I actually enjoy doing. I hope it does the very same thing for you.