How to declutter your home without the overwhelm, stress, or frustration.
Decluttering is nothing new. It's actually been around for decades. As the size of the average home began to grow, we began to get busy filling it up. What started out as simply setting up a room with a few pieces of furniture and some pretty pictures as morphed into a vast array of nick-nacks, and stuff, and things that pretty much cover every open surface in our homes.
And maybe for a time you never noticed it. As your things kept multiplying the space in your home kept shrinking until you suddenly found yourself in a cluttered mess.
But that is now all in the past. Because you are here and ready to learn how to declutter your home. And because just making the decision to declutter is a big step, we need to take a minute to recognize that. To understand now that your mind is on board and not just your heart, you are truly ready to do this once and for all.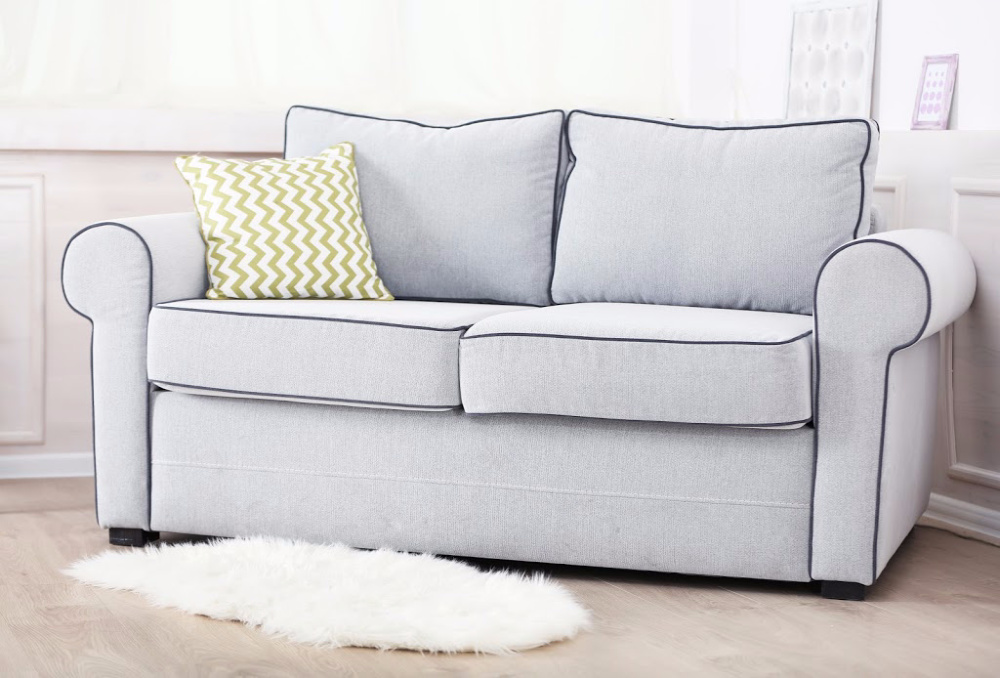 But hold up. Before we get busy let's just recap a few things first. A few important things that will help solidify that your decision to declutter your home is absolutely the very best thing to do.
There are some pretty big perks that come with a clutter-free home. A few benefits that you need to remember when the getting busy part turns out to be, well, hard.
Less stuff to clean. When you have fewer things to move on a shelf it is easier to dust it. Less cooking tools in the kitchen makes it easier to keep counters clutter-free. Let's face it, cleaning our homes is hard enough so my number one bonus of decluttering is making our homes easier to keep clean.
Less debt. All those things that are now clutter were once something you paid for. And just the thought of that may stop you in your tracks just a bit. But remember this. From this day forward you are going to only keep things that are worth the price you paid for them. And that right there is a truly liberating side effect of keeping a clutter-free home.
Less stress and anxiety. It's amazing how having too many things causes stress and anxiety while at the same time getting rid of those things does the same thing. Just the sight of clutter can make our head spin and even though letting go at times will be hard the end result will be so worth the work it will take to get there.
Easier to find things. Oh boy, this might just be my number one perk of a clutter-free home. Wasting time looking for things is actually a top stress trigger of women. Luckily when you have fewer things you will, in turn, make it easier to find what you need right when you need it.
A home you love. This is it, isn't it? The main reason we all want an organized and clutter-free home. To create a space we truly love to be in. A space that holds memories and not stress. A space that allows us to unwind and not freak out. A space where we can open the door to uninvited guests at any time of the day without ninja diving behind the pile of boxes in our family room hoping they will give up and just go leave already.
Okay, now that we got that dose of reality, let's put on those shoes, roll up those sleeves and get busy creating a home you love.
Next up is the hard part. The getting started part. But, before we even get to the actual decluttering you first need to ask yourself a few questions.
What is your goal for decluttering? Are you looking to clean out your entire home or are you just looking to get rid of the stuff that is lying out? Knowing this will help you to make decisions and keep your focus in check.
Where is your goal for decluttering? Again, are you aiming for your entire home or just your main living area?
What are your expectations for decluttering? Are you hoping for a full home transformation? Or are you just looking to make a path from the family room to the kitchen?
When you have a good idea of where you want to be, it will be easier to come up with an easy to simply follow a game plan.
What tools do you need to declutter your home?
Luckily not many. Just a few boxes or baskets, a couple of bags, tape, and a big black magic marker. The good news is, you probably already have every single one of these things in your home right now.
READ: HOW TO SET UP A DECLUTTERING KIT
I like to have my decluttering supplies ready to go so when the urge hits out of nowhere I can grab my kit and get started.
What is clutter and what is not? 
Before you start decluttering you will first need to uncover the clutter. More often than not what we think is clutter is not always so. There may be trash, dishes, papers all scattered in the mess as well. By removing that layer of stuff you might just be surprised with what you have left. A much (much) smaller clutter pile than you originally thought.
Step #1. Trash – Arm yourself with a large bag and start grabbing anything you see that is trash. Keep this easy, don't do a lot of moving around of your things. Just move around the room a pick up the paper plates, crinkled paper, napkins, empty shopping bags, wads of tin foil. Whatever you see that is obviously trash.
Step #2. Recyclables – Again, arm yourself with a large bag and begin gathering up anything you see that is recyclable. Empty water bottles, pop cans, empty food boxes, and newspapers. As much as you can find, put it in the bag.
Step #3. Put away – I like to use a laundry basket for this part. A laundry basket is my go-to decluttering tool because of all that it can hold. It is also very easy to carry and keeps the little things from falling out as well. Grab an empty basket and start gathering up anything you see that belongs in another room. Dishes, clothes, toys, pens, mail, food, whatever you can easily recognize as something that simply needs to be put away.
Now that you have those big three (and surprisingly easy) steps out of the way, take a minute to see what you have left. That is your clutter. The things you will need to go through one by one and decide what you will do with each. Hopefully what you have now is much less than what you had when you started.
Setting up a sorting area.
This is one of those tips that often get overlooked but can be a huge help with you are decluttering.
What is a sorting area? 
A sorting area is a space of the room that you set up for putting your things once they are sorted. You can use boxes, totes, or laundry baskets for this. Whatever you have available will work just fine.
I suggest having the following containers set up along a wall in the space you are working in. Your goal is to make it easy to get to so you can put all of your energy into decision making.
Donate
Give Away
Toss
Put Away
Now, I am sure you are wondering what the difference is between donate and give away. Donate is for items you are ready to send off to donation whereas give away is anything you want to hand off to a family member or close friend. By having these two boxes out you will lessen some of the stress that can come when you are faced with getting rid of your things.
D/M PRO TIP: Be sure anything you have earmarked to give to someone else is labeled before you put it into the box. You do not want to have to make a decision twice on an item, once is hard enough. Put a post-it note on the item with the name of the person you hope to give it too.
Some ideas are:
Baby clothes to a neighbor who just had a new baby.
Kitchen supplies to a teen who is headed off to college.
DVDs to your nephew who is also a movie buff.
Yarn to your mother who loves to knit.
Remember to ask before you give. You do not want to pass your clutter on to someone else. Be sure they actually want what you are offering before you hand it over. This is just one of those unspoken clutter rules.
Now that we have the basic pre-steps out of the way let's go over each room to better help you map out a plan of attack. Remember to always do the pre-steps before working on any room.
How to Declutter Your Bedroom
I believe the most important room in the home is the bedroom. Since sleep is essential for health it is important to create a space where sleep is easy to get. If your bedroom is full of stuff then it can be a lot to ask your mind to shut off so you can get ample rest. Make a promise to yourself to only keep the things in this room that will help you to get a good night's sleep.
Things to remove:
Papers/receipts
Boxes
Workout equipment
Toys
Random craft or home improvement tools/supplies
Things to keep:
A favorite book or magazine
Hand/foot lotion
Extra pillows/blankets
Sound machine
Alarm clock
A few family photo favorites
How to Declutter Your Closet
It can be quite shocking at the price of clothing. And if your closet is crammed full of things to wear you might not even realize what you have. By thinning out your clothes and only allowing the things you absolutely love to stay you will create a space that you love to be in surrounded by things you love to wear.
Things to remove:
Clothes that no longer fit. (and let's face it, probably never will again…gasp.)
Torn or stained clothing.
Shoes that hurt your feet.
Clothes that are overly stretched out.
Things to keep:
Clothes you need for work
Clothes you simply love to wear.
Clothes that make you feel amazing.
Clothes that are perfect for special occasions.
Once you have some of the clutter removed from your closet you can use this tip to help sort out the rest. Turn your hangers around so they are all facing the wrong way. As you wear an item turn the hanger around in the correct direction.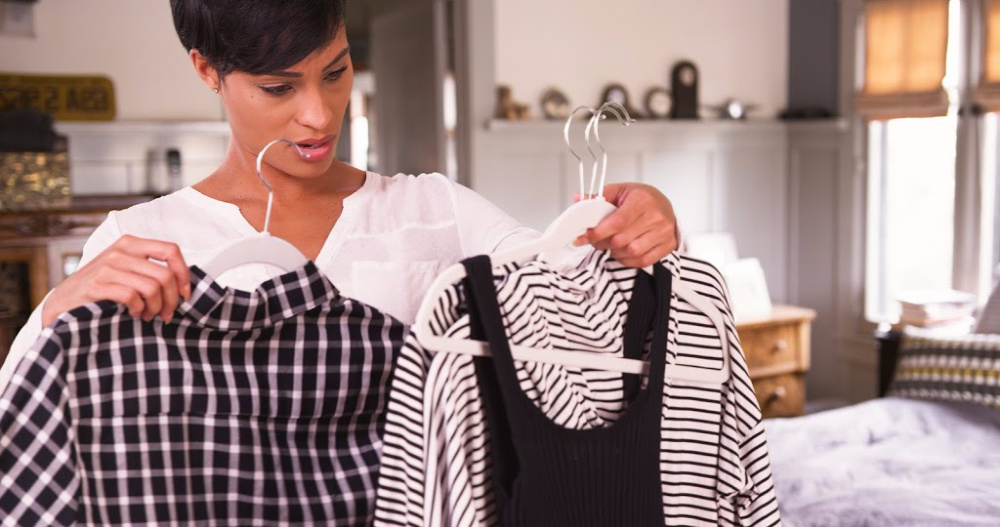 How to Declutter the Kitchen
For most homes, the kitchen is the center, the hub. It's pretty much where all the action happens. From cooking to eating. Homework to game playing. Budgeting to craft projects. It's no wonder that this room tends to get messy with so much happening all the time.
Things to remove:
Random papers
Toys
Supplies for crafts or repairs
Boxes of things
Things to keep:
Anything you use to cook a meal.
Anything you use to eat a meal.
Anything you use to store a meal.
By creating a few rules in this room you can keep the action happening without turning your kitchen upside down in the process.
A few kitchen clutter-free rules.
Keep baskets out to corral things that commonly end up here.
By having a spot to put things you will keep that clutter off of your counters for good.
How to Declutter a Pantry
Another costly area of our homes is food and for that reason tossing out spoiled, stale, or outdated items is something we really should avoid as much as possible. By decluttering and organizing where you store your food you will, in turn, keep things easier to find so you can use it all up before it goes bad. An organized pantry will also help you to create a better shopping list so you are not constantly buying things you already have.
Things to remove:
Outdated food
Opened and stale food
Food you know your family will never eat
Food you know you have way too much of
D/M PRO TIP: Fill up a box with any food you no longer want or you have too much of and donate it to the food pantry. What a great way to help others while you are creating a pantry you love.
Once you have the excess food removed you can then set up your pantry. Use sturdy bins to hold foods in a way that makes it easier for you to find things. You can do bins by theme or by item. It all depends on how you see things.
Organizing bins for the pantry. 
How to Declutter the Family Room
This is one of those rooms that is used by every person on the home. A place to relax and put your feet up. A place to cozy up for movies or settle in with a good book. And since no two families are alike what you do in your family room will be completely different than what we do in ours. For this reason, it is important to get a little input before heading into this room.
Ask your family what they love about this room. What activities do they enjoy doing in this space. Once you have those answers you can better decide what items need to be put in another room and what items can stay there.
Things to remove:
Clothes
Random toys
Pet toys
Ratty blankets
Old torn pillows
Damaged DVDs
Old newspapers and magazines
Things to keep:
Cozy blankets
Extra pillows
Games/Toys/Puzzles/Books – if this is something your family uses in this room.
READ: HOW TO ORGANIZE PUZZLES AND GAMES
Once you have only the items in this room you are going to keep here. Look for clever ways to store things that will keep this room full of what you use yet free of clutter at the same time.
Organizing Hacks for the Family Room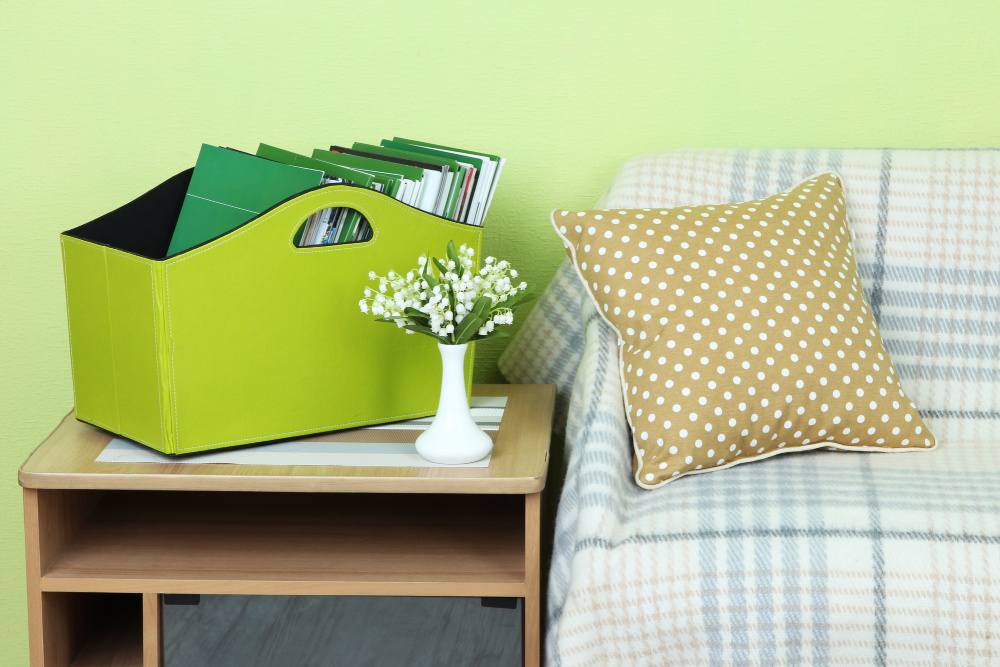 Decluttering the Bathroom
This room really has one main purpose, personal reason, and that should make it a black and white room to declutter. Unfortunately, that isn't always the case since this room also requires quite a few supplies to keep it running smoothly. This can make it easy for this room to get out of hand with clutter quickly.
Things to remove:
Old and outdated makeup
Old medications
Torn or overly stained bath towels
Broken bath toys
Personal supplies you do not use
Broken combs/picks/brushes
Stretched out hair bands and ties
Duplicate cleaning supplies
For any items you choose to keep you will want to find a way to keep them contained together so you will help to keep this space clutter-free.
Bathroom Organizer Options
This room is all business so it is important to set it up that way. Use the space you have to keep commonly used items close by. You can also install shelving to give you extra space if needed.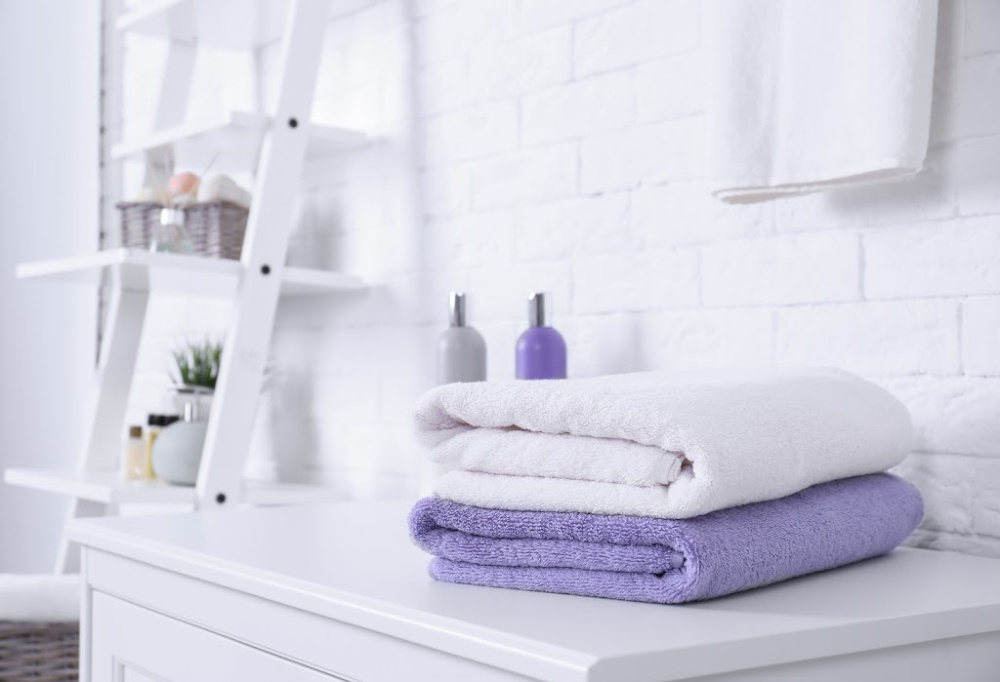 How to Declutter the Office
This one is a bit tricky since not everyone has a room in their home that is just for handling paperwork. And even if you do not have a set office you do still have paper and plenty of it. By setting up a way that will help you deal with the paper as it comes into your home you will remove more clutter from all the other rooms.
It's funny how paper seems to multiply every day and if we are not careful we run the risk of misplacing important papers. Its true clutter costs us money and nowhere is it more evident than with papers.
Before you can declutter the papers you first need to find a hub for your office. This can be a full room or just a corner in another. You can use a drawer in your kitchen or a plastic portable office that you can bring to the table. The trick here is to pick a spot and stick with it.
Things to remove:
Old or outdated papers
Old newspapers
Junk mail
Old magazines
Old coupons
Old recipes
Things to keep close:
Any financial papers that are current for this year – set up a filing system to house thes papers.
Current medical records
Current receipts – set up a simple organizing system for these
Current manuals and warranties – use binders to keep these together
Addresses – A simple binder will work great here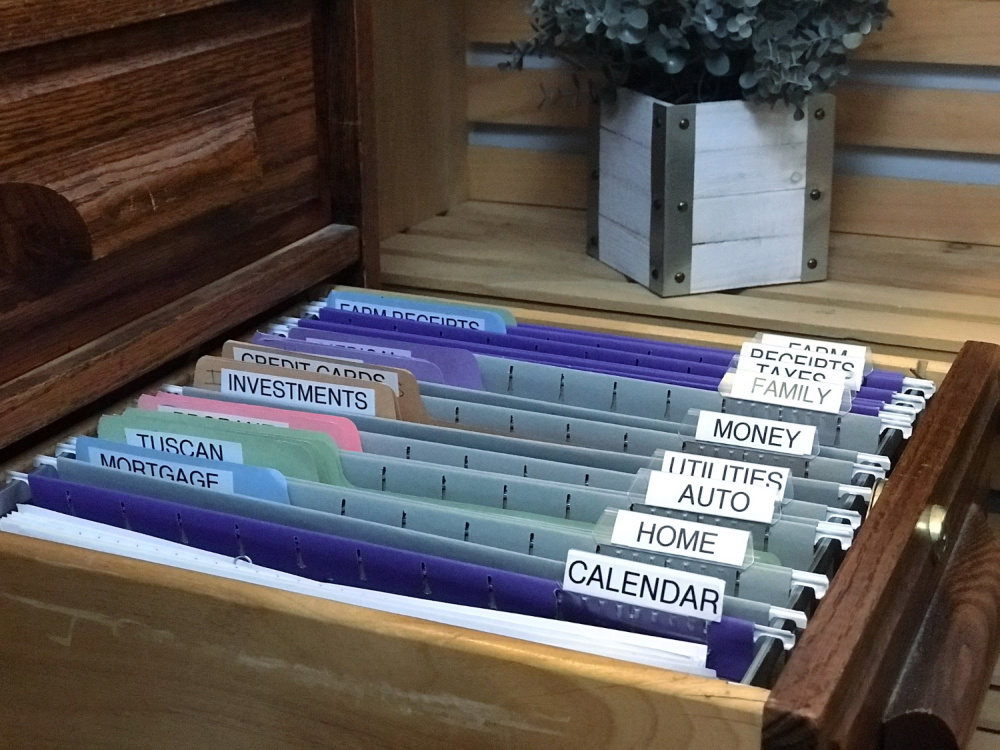 Things to keep stored away:
Anything financial records from the last 5-7 years.
Past medical records
Once you have things cleared out and organized there are a few more things you can do to keep those papers from getting scattered.
Set up a mail system. This is a great way to keep the mail front and center so no important items get buried or lost.
Set up a family command center. This is a great way to keep tabs on all the things for each of your family members.
How to Declutter the Garage
This normally is one of those spaces that often get overlooked. Maybe it's because many people do not have a garage or maybe it's because it was originally meant to house our cars and not much else. Whatever the reason, if you have a garage odds are you are using it for additional storage as your cars sit out in the driveway.
The best way to organize this area and get those cars back inside is to decide just what you plan to keep there.
Things to keep:
Outside toys
Lawn equipment
Car cleaning supplies
Tools
Trash/recyclables
Pet supplies
Home improvement supplies
Things to remove:
Anything that is broken, dried out, used up, or no longer needed
Anything that does not belong in the "things to keep" list above.
Once you know what is going to stay you can then get busy on setting up areas for each activity.
When learning how to declutter your home it is important to work with how you think about your things. Do not force yourself to remove anything you love. Give yourself simple rules to follow. Remove what you don't love, need, or use so you can free up space for what you do.